Rincoe Manto X Mesh 228W Kit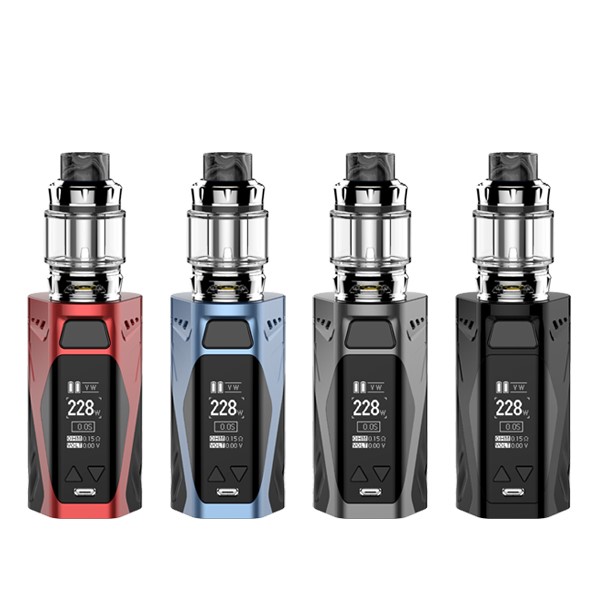 Rincoe Manto X Mesh 228W Kit
After a half a year's effort and thousands of tests, Rincoe is proud to present the smallest dual 18650 battery mod to date, the Manto X. With a max output of 228W/50A, the Manto X is second to none for those who are looking for an outstanding flavor mod with extreme power and portability. It is a beast for being so small in size. The Manto Mod supports four modes, VW, TC, TCR, and BYPASS modes to cater to the user and meet individual demands.
The kit also features the Metis Mix Mesh Tank that is designed to provide intense flavor and reduce leaking, as well as the potential of a dry hit. Compatible with the Metis Mix Mesh Coils, they have a longer lifespan than the traditional coil. Not only can it heat evenly and absorb e-liquid effectively, it ensures you the most perfect flavor and huge vapor.

Specifications:
Manto X Mod:
Size: 75mm x 40mm x 37mm
Material: Zinc Alloy + Stoving Varnish
PCB Efficiency: 95%
USB Charging: 5V/2A
Max Output Current: 50A
Max Output Voltage: 8.0V
Metis Mix Mesh Tank:
Size: 25mm x 51.2mm
Tank Capacity: 6mL (max)
810 Drip Tip
Thread: 510
THE PERFECT SIZE - Match your Manto X Mod with 30mm size tanks without any overhang!
A QUICK CHARGING SYSTEM - With a maximum charging current, the batteries can be fully charged more quickly!
Kit Includes:
1 x Manto X Mod
1 x Metis Mix Mesh Tank
1 x Single Mesh 0.15 Ohm Coil
4 x Replacement O-Rings
1 x USB Charging Cable
1 x Warranty Card
1 x Certificate Card
2 x User Manuals