Releafy Glow 2-in-1 E-Nail & Vaporizer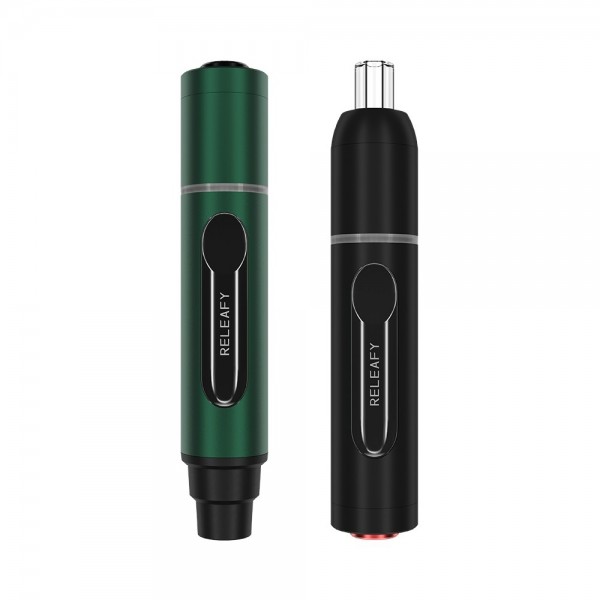 Releafy Glow 2-in-1 E-Nail & Vaporizer

The Glow 2-in-1 from Releafy is a versatile alternative device that can be used in two different ways. One being an e-nail, which can be paired with 10mm, 14mm, and 18mm female water pipe joints. The other one is a vaporizer pen which is incredibly portable to fit in your pocket for on-the-go use. Glow has a large 1000mAh battery that can last all day and variable voltage ranging from 3.4V to 4.2V, so you can choose between lower temp flavorful hits or high temp clouds. It also features adjustable airflow and an isolated airflow path.
Specifications:
Size: Ф22mm*18mm/116.5mm
Battery Capacity: 1000mAh
Heating Chamber: Quartz
Voltage Settings: 3.4V / 3.8V / 4.2V
Charging: USB-C
THREE VOLTAGE SETTINGS - Voltage settings range from 3.4V to 4.2V, answering the demand of both flavor chasers and cloud chasers.
ADJUSTABLE AIRFLOW - The airflow controlling unit functions as a carb cap so letting more air or less air in is totally within the control of the user.
ISOLATED AIRFLOW PATH - It can't be worse to have any taste other than that of your dabs, so we design an isolated path separate the airflow from any electronic parts to make sure you get the most pure flavor.
WATER PIPE ADAPTER - Glow E-Nail fits perfectly with 10mm, 14mm, and 18mm female water pipe joints. The glass mouthpiece that is used with the dab pen mode can also work as a 10mm WPA.
Box Contents:
1 x Glow 2-in-1 Device
1 x Quartz Heating Chamber
1 x Glass Mouthpiece
1 x USB-C Cable
1 x Dab Tool
1 x Cleaning Brush
1 x Carrying Case

1 x User Manual