Paragon Tank by VAPTIO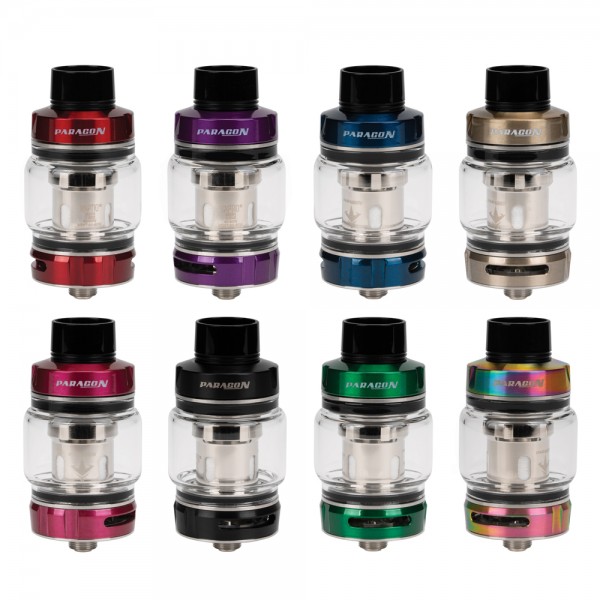 Paragon Tank by VAPTIO
Paragon Tank, a new member of the Vaptio Flavor Tank Family, is not only a powerful one but also an all-round sub-ohm tank for your daily use. The package includes two of the latest coils on the market as well; Paragon Mesh and Paragon Strip Coils. On average, Paragon Coils have at least three times longer lifespan. The Paragon Tank also has enhanced airflow structure, helping to keep the tank cool when vaping continuously. Paragon's coil versatility allows for unrivaled epic flavor options. Enjoy ultra-flavorful taste, huge vapor production, and longer coil lifespan.
Paragon Tank HOT-SPOTS:
Mesh & Strip Coil - Endless Taste Possibilities
Smooth Tech - Cool Controlled Airflow
Maxi-Watt Tank - Massive Vapor Production
The Paragon Strip coil is a fire-new revolutionary coil from Vaptio. Made from Kanthal, Vaptio has developed the innovative heating membrane unit, whose structure can bring great surface absorption so as to fasten the speed of e-juice absorption. It has larger heating area and radiation area, making the heating more evenly and helping the e-juice to heat up quickly. Moreover, Vaptio's Paragon Strip coil can also avoid the heat accumulation and the corrosion of heating materials. Compared with other traditional heating wires, strip coil can easily load higher power. The large number of thin films formed in the porous has greatly improved the free energy of the surface. On the combined effects of surface tension and van Edward force, it will activate numerous aromatic compounds in the e-juice to achieve both large cloud and dense flavor, bringing an unprecedented vaping experience.
What is so special about the Vaptio Paragon Mesh Coil? Compared to traditional coils, mesh coils have a wider heating area. This allows Paragon Mesh coil to evenly heat and absorb e-liquid, effectively ensuring unrivaled flavor and huge vapor production. What's more, the mesh coil has a longer lifespan. Looking for a new cloud chasing tank? Upgrade to Paragon and use the Paragon Mesh coils today!
Specifications:
Dimensions: 25mm x 49mm
Capacity: 8mL
Resistance Range: 0.15-0.2 Ohms
Package Includes:
1 x Paragon 8mL Tank
1 x Paragon Mesh 0.2 Ohm Coil (pre-installed) (Rated: 40-90W / Best: 60-80)
1 x Paragon Strip 0.15 Ohm Coil (Rated: 40-100W / Best: 80-90W)
1 x User Manual
Spare Parts