OXVA XLIM SQ Kit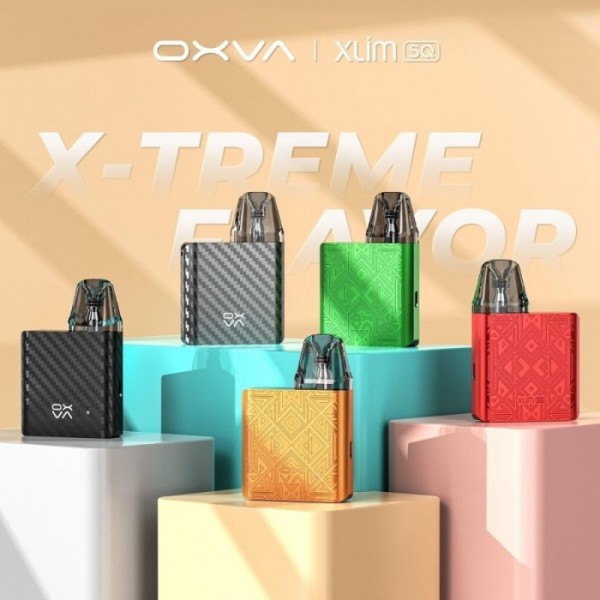 OXVA XLIM SQ Kit
X - T R E M E F L A V O R S Q U A R E D .
The XLIM has been SQuared! As the newest addition to the XLIM Series from OVXA, the XLIM SQ is a stylish and extremely compact pod device capable of reaching 25W of output power. Fully compatible with the XLIM V2 Cartridges, the XLIM SQ device will deliver extreme flavor for both freebase and nicotine salt based e-liquids.
Specifications:
Dimensions: 47mm x 14mm x 68.5mm
Output Power: 5W to 25W
Battery Capacity: 900mAh
Material: Aluminum Alloy + PCTG
E-Liquid Capacity: 2mL
Coil Specs: 0.6Ω (20W-25W) / 0.8Ω (12W-16W) / 1.2Ω (10W-12W)
Charging: DC 5V/1A, Type-C
Weight: 44g
SQUARE SMART - The XLIM has been squared to satisfy you anytime, anywhere; in your pocket, or around your neck with the included lanyard.
XLIM V2 CARTRIDGES - The upgraded XLIM V2 Cartridges with resistances of 0.6Ω, 0.8Ω, and 1.2Ω are likely to satisfy all your needs. These cartridges are now highly leak-resistant and refill from the side. The 0.6Ω resistance cartridge works great with freebase e-liquids while the 0.8Ω and 1.2Ω resistances are perfect for nic-salt.
XLIM V2 Mesh 0.6Ω Cartridge
Rated: 20W to 25W
Restricted Direct-to-Lung
Highly Leak-Resistant

Supports Freebase E-liquid
XLIM V2 Mesh 0.8Ω Cartridge
Rated: 12W to 16W

Mouth-to-Lung
Highly Leak-Resistant
Supports Nic-Salt E-liquid
HIGHLY LEAK-RESISTANT - Anti-leaking design to prevent condensation at the bottom. The upgraded side-fill system ensures a quick and perfect refill.
ERGONOMIC AFC - The airflow control switch, located strategically on the side of the device, allows you to find your perfect airflow setting for the best and most precise draw.
POWERFUL FAST CHARGING - You can achieve an 80% charge on the 900mAh built-in battery in less than 30 minutes!
SMART BATTERY INDICATOR - The small LED battery indicator light makes it easy to monitor the battery life of your device. A green light will indicate the battery level is between 65%-100%, Blue indicates 30%-65%, and Red indicates the battery level is 30% or lower and should be recharged soon.
Box Contents:
1 x XLIM SQ Device
1 x XLIM V2 0.6Ω Cartridge (pre-installed)
1 x XLIM V2 0.8Ω Cartridge

1 x Lanyard
1 x Type-C Cable
1 x User Manual