OXVA XLIM SE Classic Edition Kit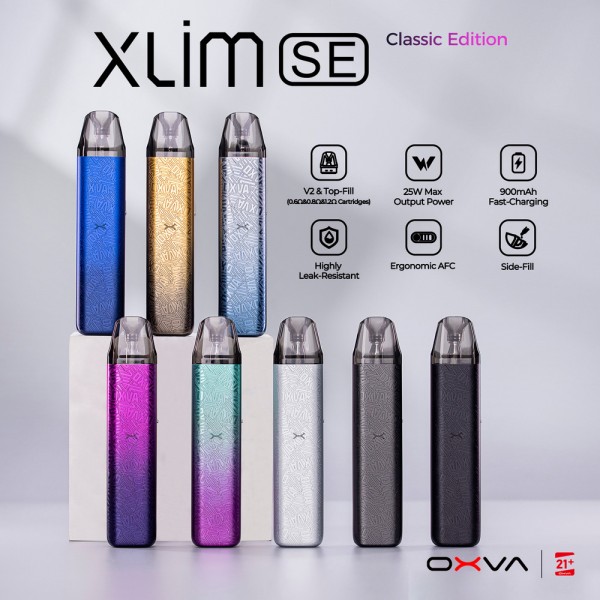 OXVA XLIM SE Classic Edition Kit
X - T R E M E F L A V O R .

The XLIM SE Classic Edition Kit is an extension of the XLIM Series from OXVA, equipped with a 900mAh internal battery and the new XLIM V2 Cartridge. The upgraded cartridge will produce x-treme flavor and strong throat hits, offering you more vaping styles in both RDTL and MTL.
HIGH PERFORMANCE - Perfectly compatible with the XLIM V2 and Top Fill Cartridges, delivering long-lasting and x-treme vape flavor.
XLIM V2 CARTRIDGES - The upgraded XLIM V2 Cartridges with resistances of 0.6Ω and 0.8Ω are likely to satisfy all your needs.
HIGHLY LEAK-RESISTANT - Anti-leaking design to prevent condensation at the bottom. The upgraded side-fill system ensures a quick and perfect refill.
CARTRIDGE COMPATIBILITY - The V1, V2, and now V3 versions of the OXVA XLIM Cartridges are compatible with all existing XLIM Devices (except XLIM C). The upgraded V3 Top Fill Cartridge is now highly leak-resistant and refills from the top.
Specifications:
Dimensions: 24mm x 14mm x 111mm
Output Power: 5W to 25W
Battery Capacity: 900mAh
Material: Aluminum Alloy + PCTG
E-Liquid Capacity: 2mL
Coil Specs: 0.6Ω / 0.8Ω / 1.2Ω
Charging: DC 5V/1A, Type-C
Weight: 46g
FASHIONABLE & FUNCTIONAL - New fashionable pattern design with rounded edges for a better grip.
SMART DETECTION - The XLIM SE enables automatic resistance detection to match the recommended wattage for the cartridges; 0.6Ω - 22W / 0.8Ω - 16W / 1.2Ω (V1) - 12W
INTELLIGENT LED INDICATOR - The XLIM SE has equipped breathing LEDs to indicate the state of the battery while inhaling. A green light will indicate the battery level is between 65%-100%, Blue indicates 30%-65%, and Red indicates the battery level is 30% or lower and should be recharged soon.
ERGONOMIC AFC - The airflow control switch, located strategically on the side of the device, allows you to find your perfect airflow setting for the best and most precise draw.
BUILT-IN POWER - The internal 900mAh battery provides you with an entire day of vaping, leaving you fully satisfied.
Box Contents:
1 x XLIM SE Classic Edition Device
1 x XLIM V2 0.6Ω Cartridge (pre-installed)
1 x XLIM V2 0.8Ω Cartridge
1 x Type-C Cable
1 x Lanyard
1 x User Manual