Ooze Slim Clear Series Transparent 510 Battery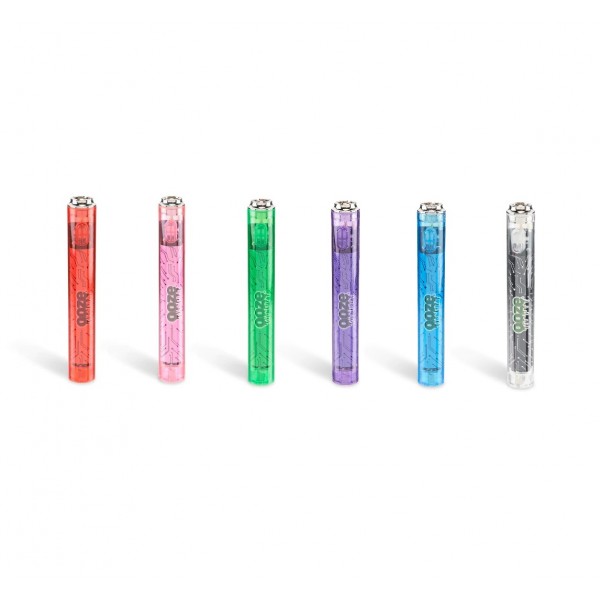 Ooze Slim Clear Series Transparent 510 Battery
Remember those dope transparent electronics from the 90's? The Slim Clear is Ooze's take on those; a reliable battery with flex temp and prep mode. As a basic 510 vape battery, it's compatible with all types and sizes of pre-filled oil cartridges and concentrate attachments.
SLIM CLEAR | The Slim Clear is a 510 thread battery with a transparent plastic covering that shows off the internals of the device. The Slim Clear is compatible with all pre-filled oil cartridges and wax attachments. It is a powerful 400mAh battery device with a fantastic battery life.
TYPE-C CHARGER | The Slim Clear Battery includes an Ooze brand Type-C charging cable for rapid charging.
FLEX TEMP | The Slim Clear is equipped with flex temp, which means with 3 rapid clicks, you can cycle through and select one of the three voltages levels. Each temperature has a different light color so you never get confused on how hot your device is heating. The lowest voltage is 2.7V, indicted by a red LED; the medium setting is 3.3V and will be blue; and the highest voltage is 4.0V and will be indicated by a green LED. We recommend always using the lowest voltage for pre-filled cartridges.
PREP MODE | Prep Mode is activated by clicking the button twice. A gentle heating cycle will clear any clogs in the airway of the cartridge and prep your materials for inhalation at the same time.
Box Contents:
1 x Slim Clear Battery
1 x Type-C Charger