OOZE Movez Wireless Speaker 510 Cartridge Battery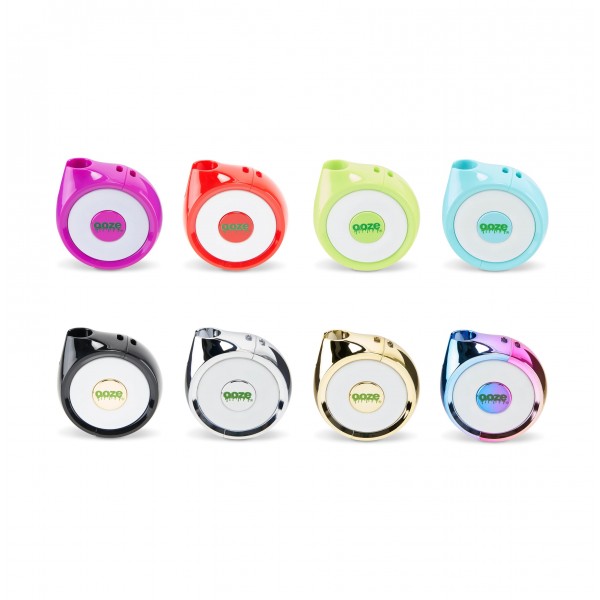 OOZE Movez Wireless Speaker 510 Cartridge Battery
T H E U L T I M A T E P A R T Y B A T T E R Y .
The Ooze Movez is a fun cartridge vaporizer that has a built-in wireless speaker that connects to your smartphone to play music! This 510 thread device is compatible with tons of different pre-filled THC/CBD/Delta 8 oil cartridges, or with an atomizer attachment for concentrates. Screw the included magnetic adapter onto the bottom of cartridge and just drop it into the chamber to connect. While it isn't exactly a discreet device, it certainly adds a whole lot more fun to whatever you do. Relax, unwind, and immerse yourself in some good tunes with this uniquely innovative hybrid device.
WIRELESS SPEAKER | The Ooze Movez wirelessly connects to your smart phone to play music, however you do not have to use the speaker in order to use your device. Simply inhale to take a puff at any time. All of the music controls including volume are controlled with the phone, keeping the Movez super straightforward and simple to use. Press and hold the button for 3 seconds until the falling tones play to turn it off.
510 THREAD | Press the button for 1 second, and 3 rising tones will play to indicate that the device is turned on. When the cartridge is inserted into the chamber, the Movez will flash a blue light and play a rising and falling tone if the connection is made properly. If there is a connectivity error with the cartridge, the device will flash red, blue, and green 4 times. Simply lift the cart out and try connecting again.

LED LIGHTS | Different colored LED lights around the center button of the Movez will illuminate to communicate power status and connectivity. The Movez will also cycle a rainbow light when the speaker is playing music and while taking a hit from your cartridge.
AUTO SHUT-OFF | This Movez automatically shuts off after 10 minutes of inactivity, conserving battery power so you don't have to recharge your device as frequently. The Movez is also equipped with Safe Sesh Mode, which means each heat cycle ends after 10 seconds to preserve the cartridge coil. Once this cycle completes, the device will flash red 5 times.
TYPE-C CHARGING | The Movez includes a Type-C charging cable for rapid charging. While the speaker is playing, the device will flash red 3 times to indicate that the device only has 10% power left and it needs to be charged soon. If the device flashes red 10 times while taking a puff, it means the battery is low and needs to be charged soon. The lights will be red while it's charging, and will change to green once it reaches full charge.
Sold individually.
Cartridges are NOT included.