OBS Alter Pod Kit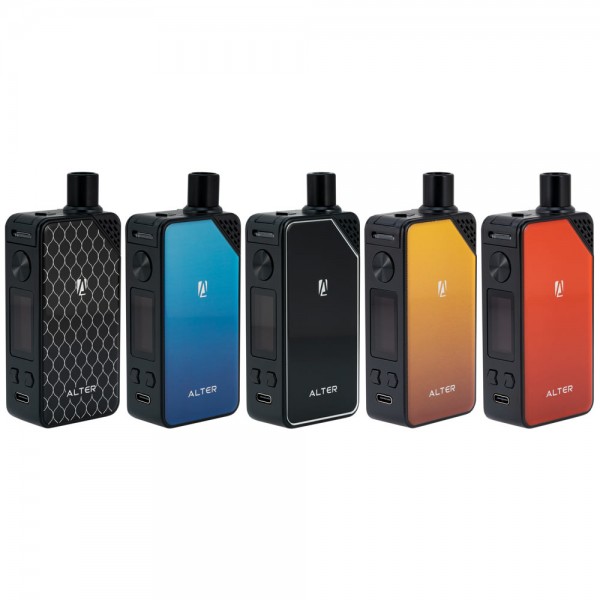 OBS Alter Pod Kit
F O R B O T H N I C S A L T & S U B - O H M C O I L .
Presenting the newly crafted OBS Alter 70W Pod Kit, incorporating a large pod fill capacity, multitude of coil offerings and choices, and has a sliding top fill system that makes refills simple and easy. Crafted from durable zinc-alloy and glass chassis, the Alter Pod Kit is equipped with a proprietary chipset, raising the wattage output to 5-70W to make use of the various coils that are compatible with the 3.5mL or 5mL pod, depending on the installed coil.
Ergonomic Design
Magnetic Connection --- Easy & Safe
Cloud Beast --- Max 70W
To better protect the pod and coil, hold the device at a slight incline to fully soak the coil with e-liquid before every puff. Utilizing a sliding top fill system, the Alter Pod can be refilled quickly with little to no mess. The refillable Alter pod can utilize a variety of coils, changing the capacity of the refillable pod with each individually coil option.
Alter Mod Parameters:
Material: Zinc Alloy
Size: 85mm x 43mm x 24mm
Weight: 146g
Battery Capacity: 2300mAh
Time to Cut-Off: 10 seconds
Power Range: 5W - 70W
Standby Current: <60uA
Output Voltage: 1V - 8V
Resistance Range: 0.1Ω - 3.0Ω
Charging Voltage: 5V
Charging Current: 1.6A
Alter Pod Parameters:
Alter 3.5mL Pod (only compatible with m1 and m3 coils)

Size: 43mm x 42.4mm x 24mm
Weight: 27g
M1 / M3 Capacity: 3.5mL / 2mL

Alter 5mL Pod (only compatible with sx and nx coils)

Size: 43mm x 42.4mm x 24mm
Weight: 27g
SX / NX Capacity: 5mL
Airflow Adjustable for NicSalt Base
Kit Contents:
1 x OBS Alter Pod System
1 x Empty Alter Pod (M1 0.2Ω Coil - pre-installed)
1 x Empty Alter Pod (NX 1.4Ω Coil - pre-installed)
1 x SX 0.15Ω Coil
1 x MTL Drip Tip
1 x USB Type-C Cable