Nicolas MTL Tank by VapeFLY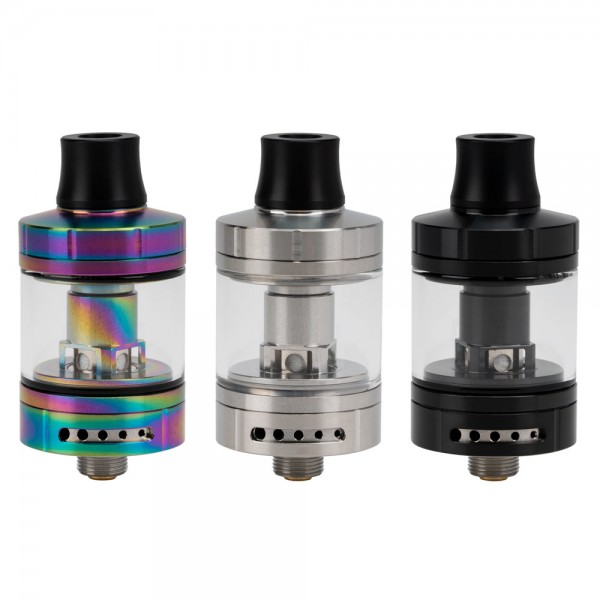 Nicolas MTL Tank by VapeFLY
The Nicolas is a MTL flavor tank from VapeFLY which features a BVC coil structure along with a convenient Plug-Pull mechanism for ergonomic replacement process. No more needing to screw in coils! The most special design is the extra air hole in the adjusting ring. Normal air control hole is big and cannot choose one air flow for preference. With this extra hole in the ring, people can choose any airflow for different mod and different vapor. It maximizes Nicolas coils vapor function and produces better flavor with 9 airflow choice! The package includes two types of Nicolas Coils; a 1.8 ohm coil, rated at 9-13 watts, and a 0.6 ohm coil, rated at 18-25 watts.
Main Features:
Unique Plug-Pull easy replacement design
Threaded top cap free from leakage
Pinpoint airflow control system
PINPOINT AIRFLOW CONTROL - There are 5 holes in the tank base for airflow adjustment. In addition, there's one small hole in the adjusting ring for pinpoint air hole control. When you twist the ring, you can choose any air hole as you want. So you have 9 airflow choices!
Specifications:
Type: MTL flavor tank
Material: Stainless Steel + Pyrex Tube
Resistance: 0.6 ohm (18-25w), 1.8 ohm (9-13w)
Size: 46mm x 22mm
Capacity: 3mL
Thread: 510
Packing List:
1 x Nicolas MTL Tank
1 x 0.6 ohm coil (pre-installed)
1 x 1.8 ohm coil
1 x Replacement Glass Tube
1 x User Manual
Spare Parts