Nic5 Vapor The Box Disposable 5% Adjustable Airflow Rechargeable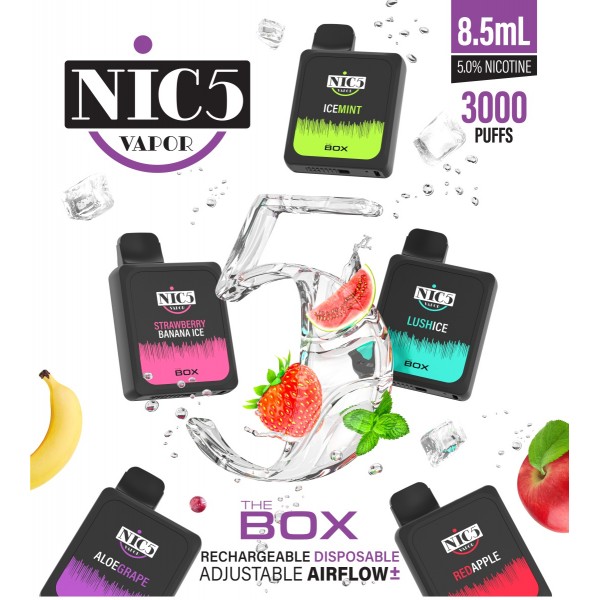 Nic5 Vapor The Box Disposable 5% Rechargeable
A R E C H A R G E A B L E D I S P O S A B L E D E V I C E.
Each display box contains 5 disposable devices.
Each master case contains 100 disposable devices.
The Nic5 is designed to be stylish and reliable. Coming in a portable box shape with metallic finishing, 3D engraving on both sides, and an incomparable feeling in the hand, the Nic5 delivers an increased puff count, an increased e-liquid capacity, and the added ability to recharge.
Featuring a retractable mouthpiece tip that increases the portability without sacrificing the smoking experience. Tested for reliability, the mouthpiece tip has been proven to pass 20,000 in-and-out clicks.
Adjustable airflow is offered in this device via the sliding switch located on the bottom.
Product Specifications:
Retractable Mouthpiece Tip
Pre-Filled E-liquid Capacity: 8.5mL
Battery Capacity: 320mAh (Rechargeable)
Puff Count: Approximately 3000 Puffs
Nicotine: 50mg
Charging: Micro USB Charger (Not Included)
Flavors:
Aloe Grape
Strawberry Banana
+
Ice Mint
+
Lush Ice
Red Apple