Mongrel RDA by Damn Vape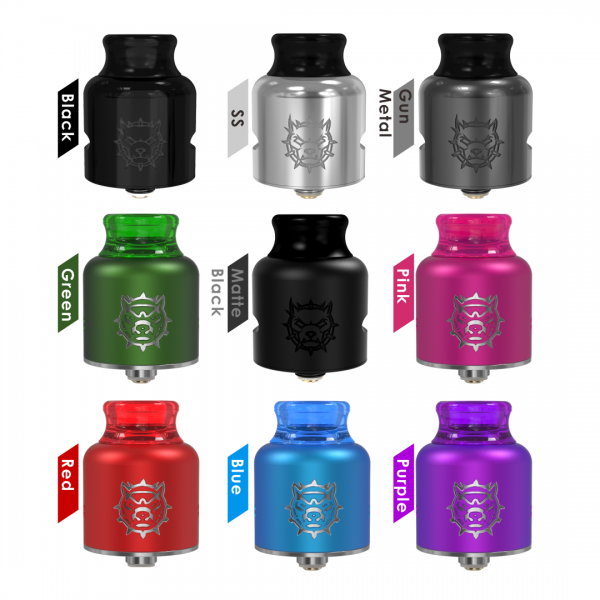 Mongrel RDA by Damn Vape
A F L A V O R - O R I E N T E D R D A .
The Mongrel RDA is an ultimate squonker / dripper made in collaboration between Damn Vape & Deuces Jack (Vaping Insider). It was created with the idea of being easy to build while giving the vapor a pure flavor experience. It is a single coil, dual post deck with two terminals per post, so it doesn't matter which way our coils are wrapped. Installing a coil will be as simple as it can be.
Specifications:
Diameter: 25.4mm (26mm w/ Glass Top Cap)
Height: 32mm
Max Coil ID: 4.0mm
Drip Tip Type: 810
Thread: 510
Juice Well Depth: 9mm
Juice Capacity: 1.3mL
Weight: 130g
The Mongrel RDA measures 25.4mm in diameter and features a 9.5mm deep juice well. The package contains a stainless steel top cap and a glass top cap for personal customization. The nonporous feature of the glass top cap will give you a clean, pure, flavor-chasing experience. The metal cap has an 810 opening and will provide a bit more airflow for those that like a cloudier vape, while still maintaining the great flavor this RDA is capable of. We did this because we know vapers place a premium on versatility.
Box Contents:
1 x Mongrel RDA
1 x 0.22Ω Fused Clapton Coil
2 x Organic Cotton
1 x Glass Top Cap
1 x Stainless Cap
1 x Full AF Insert
1 x Restricted AF Insert
1 x 810 Drip Tip
1 x BF 510 Pin
1 x Standard 510 Pin
1 x Spare Parts Bag (O-Rings, Screws, Allen Key)
1 x User Manual