MJ Arsenal Jammer Mini Rig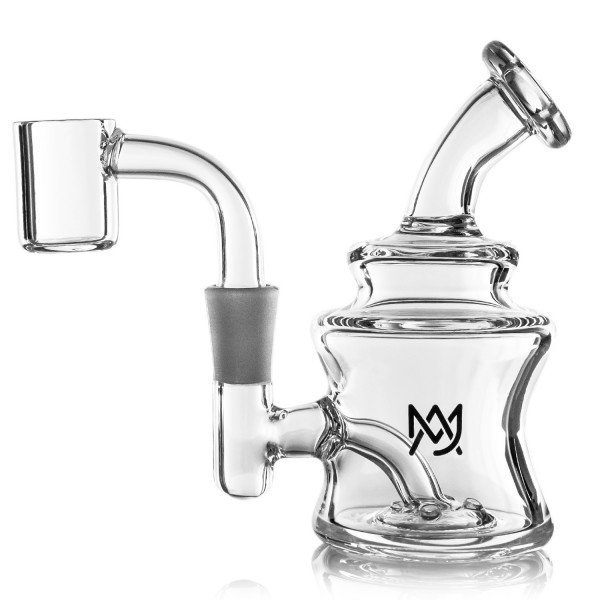 MJ Arsenal Jammer Mini Rig
Do you like to shred? Meet the Jammer, the Mini Rig™ with the price of a daily driver that rips like a weekend exotic. The seemingly simplistic Jammer Mini Rig is the epitome of MJ Arsenal's commitment to function above all else. No frills here! Featuring a simple base-connected percolator, the device delivers vapor straight through the mouthpiece without secondary filtration or recycling to seal it all together into a palm sized ripper.
The Jammer Mini Rig is remarkably small when compared to other models, measuring just 4.25 inches in height with a 10mm joint, meaning it'll fit perfectly with quartz bangers of the same size. Just like larger rigs, this mini rig features a threaded downstem that's fully welded into the base. The design keeps it strong after repeated use. All MJA Mini Rigs™ include an oil catch in the downstem to help prevent excess oil from seeping into the rig. This helps you get the most out of your concentrates and reduces how often you'll need to clean it. Thanks to the wide open space inside and the lack of interior tubing, it's easier to clean than any other rig you can find.
A smaller concentrate rig is more convenient and less bulky if you're trying to store it for travel. Its reduced size makes it ideal for carrying with you and pulling it out when you're ready. It's made from high-quality borosilicate glass so you can rest easy knowing that your dab rig is built for longevity and durability.
10mm Joint

Built-in Oil Catch
Base Connected Perc
Small Form Factor
Dimensions: 4in x 3.25in x 2in
The MJ Arsenal Jammer Mini Rig comes with an MJA Custom Flat Top Quartz Bucket.