Mi-Pod Pro Device - Alloy Collection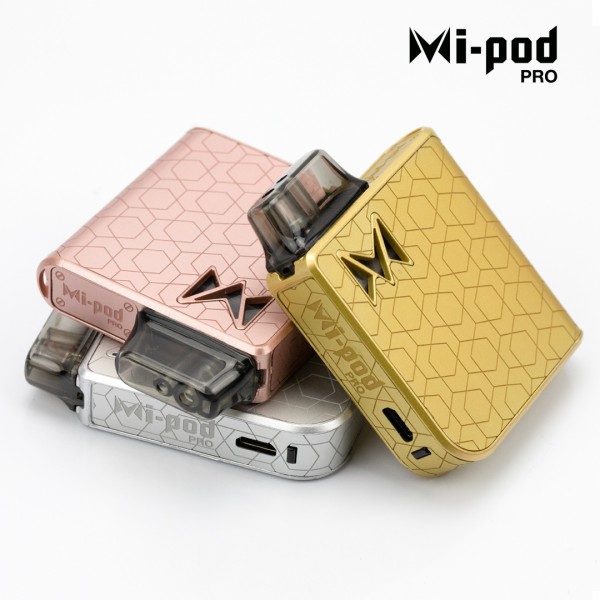 Mi-Pod Pro Device - Alloy Collection
The Mi-Pod Pro from Smoking Vapor is a super compact, innovative electronic vapor starter kit with 2mL e-juice capacity and a custom-made 950mAh built-in battery. The Alloy Collection was designed with futuristic cubist designs engraved into anodized aluminum plates. Experience a smooth, tactile sensation, made with a beautifully rich & soft looking matte finish.
Is a blend of simplicity, function, and fashion that gives you a sub-ohm feel of a lung vape with an amazing flavor from your own favorite juice. Sleek, and easy, the Mi-Pod Pro has a compact system that doesn't sacrifice power. This pocket vape has a beautiful sleek design and is simple enough for anyone to use, even for first-time vapers.
Main Features & Specifications:
Compact Size and Big Battery Capacity
Replaceable Cartridge (Disposable / Refillable)
Top E-juice Filling and Anti-leaking System
OAS System (Oil and Air Separated)
Auto Switch & Power On/Off Button
Power Display: Blue, Purple and Red
10 Seconds Cut Off
Short Circuit Protection
Low Voltage Protection
Low Resistance Protection
Over Heating Protection (PCBA Temperature)
Power Mode: Full-power Output
Dimensions: 51mm x 13.5mm x 60mm
Output Voltage: 3.0-4.2v
Maximum Current: 15A
Battery: Built-in 950mAh Square High-Drain Lithium Battery
Cartridge Resistance Range: 1.3Ω
Expert design, care, and engineering went into our revolutionary pod systems. The Mi-Pod Pro has refillable 2mL pods; fill the pod with your favorite juice and go anywhere! Featuring a patented OAS system (Oil and Air Separated), with top airflow and no leaking, the Mi-Pod Pro brings you an entirely new vaping experience. It supports both disposable cartridges and refillable cartridges.
Furthermore, the Mi-Pod Pro comes with manual auto-draw, 3-color power indicators and a micro-USB port, which makes it very convenient to use and charge.
Stealth Mode - Ability to turn the glowing light off. Mi-Pod Pro gives you the freedom of vape in a small, compact way.
Kit Includes:
1 x Mi-Pod Pro Device - Alloy Collection
2 x Refillable Mi-Pod Pro Pods
1 x Lanyard
2 x Lanyard Connectors
1 x Micro USB Charger
1 x Airflow Adjustment Card
1 x Warranty Card