Mechlyfe Ratel XS Rebuildable AIO 80W Pod Mod Device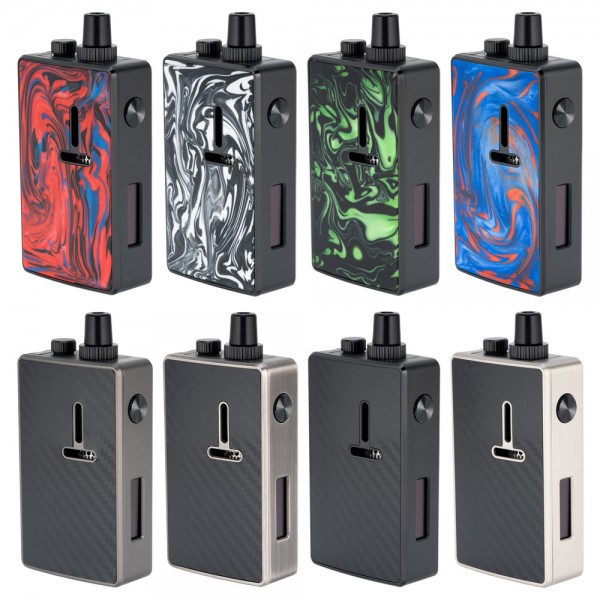 Mechlyfe Ratel XS Rebuildable AIO 80W Pod Mod Device
M T L & D T L .
The Ratel XS is a compact, single 18650, rebuildable AIO pod mod from Mechlyfe. Although the Ratel XS Kit sounds similar to the original Mechlyfe Ratel, it's a completely different vaping device. The Ratel XS AIO Kit features a portable and palm-friendly design, ergonomic size for a comfortable grip. And it is made of elegant resin panels, beautiful and durable. Powered by a single external 18650 battery (not included), the Mechlyfe Ratel XS Kit reaches a maximum output of 80W. The maximum output voltage is 8V, so it would work great with higher resistance builds. It features six working modes, which include Power Mode, Voltage Mode, Bypass Mode, Temperature Control Mode, Ni Mode, and Ti Mode.
MTL & DTL
510 drip tip
Refillable 5.5mL e-liquid capacity
Visible e-liquid window
Easy rebuildable single coil deck
Extra dual coil RBA selection
Replaceable single 18650 battery
Adjustable wattage --- 5 to 80W
Adjustable voltage --- 0.5 to 8.0V
Resistance range --- 0.05Ω to 3.5Ω
Bypass mode, temperature control
6pcs Φ1.8mm adjustable outside airflow holes
Inner unique design MTL & DTL airflow system
The pod that comes with the Ratel XS AIO kit is equipped with a 5.5mL large capacity with a simple top-filling system and bottom airflow system design; it is the best for both DTL and MTL vape. Like the original, you can use your own coils. It features a basic two-post build deck, so installing coil is simple and convenient. Mechlyfe Ratel XS has high compatibility with other mouthpieces but you can also buy the extra resin drip tips from Mechlyfe to match your device.

Kit Contents:
1 x Ratel XS AIO
2 x MTL Fused Clapton Coil
1 x Organic Cotton
1 x Mechlyfe L Tool
2 x Screws
1 x Screwdriver
1 x O-Rings Bag
1 x Lanyard
1 x USB Cable