Magma AIO Kit by FamoVape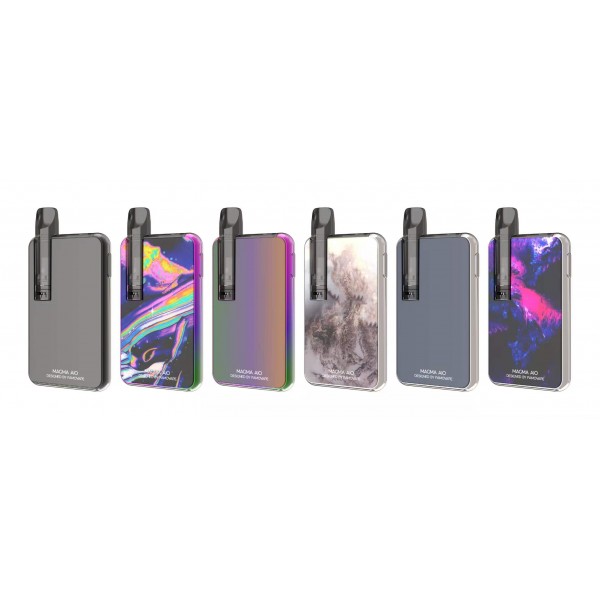 Magma AIO Kit by FamoVape

S I M P L E Y E T P O W E R F U L .
Crafted for elegance, you can practically feel the luxury in your hands. Introducing the Magma AIO Kit from FamoVape. The Magma AIO stands out from other pod devices with its chic & unique design, thin and shiny like a smartphone. Contrary to the small size of the Magma AIO, it still creates large clouds and unparalleled flavor. The device is compatible with the Magma AIO Coils and utilizes a proprietary pod that holds up to 2mL of e-liquid with added protection against leakage.
Specifications & Parameters:
Dimensions: 97.6mm x 10mm x 50mm
Weight: 92g
Battery Capacity: 900mAh internal
Power Range: 5W-40W
Resistance Range: 0.4Ω / 1.2Ω
Pod Capacity: 2mL
Fill Type: Top Fill
Display: 0.69" OLED
Charging Current: Type-C DC 5V/1A
EASY TO USE - The output of the Magma AIO will automatically adopt to 20W to 40W with the M1 Mesh 0.4Ω Coil (DTL) and 8W to 15W with the M2 Regular 1.2Ω Coil (MTL).
GO AROUND - The 360° rotatable tip on the thinnest 40W pod device uses reliable magnet fixings to stay safely in place.
MORE EXTENSIVE - Different MTL & DTL scenarios are supported as the buck-boost PCB board supports strong output and a fast firing speed.
VISUAL EXPERIENCE - The 0.69" OLED display screen allows for clearer control, even in direct sunlight on the brightest days.
LATEST CHARGING TECHNOLOGY - The Magma AIO supports fast charging using the included USB Type-C charging cable. Your device can be fully charged in an hour, allowing you to spend more time vaping and less time charging.
Kit Includes:
1 x Magma AIO Device
1 x Magma AIO Pod 2mL
1 x M1 Mesh 0.4Ω Coil (20W-40W) (pre-installed)
1 x M2 Regular 1.2Ω Coil (8W-15W)
1 x USB Type-C Charging Cable
1 x User Manual
1 x Warranty Card