Lost Vape URSA Baby Pod Kit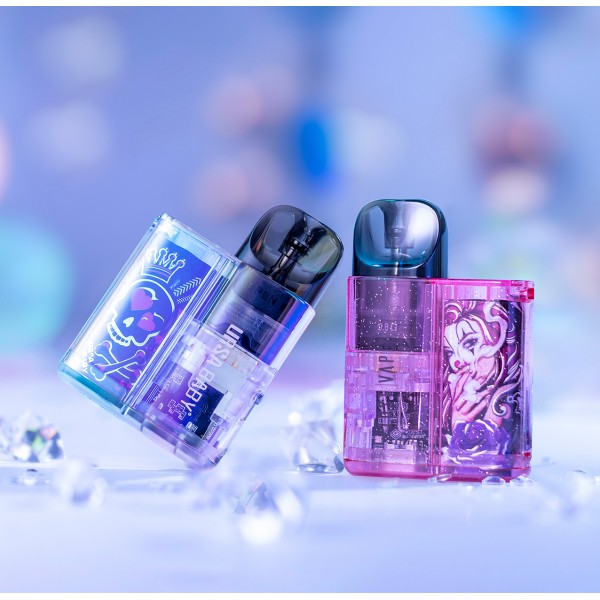 Lost Vape URSA Baby Pod Kit
T H E A C E O F F L A V O R .
The Ursa Baby Pod Kit from Lost Vape uses the Quest chipset, is compatible with the Ursa Pods, features a fashionable and transparent façade design, same as the Ursa Pod Kit, brining out the prefect and loose MTL draw. With the draw-activated and unique airflow switch function, simply inhale on the mouthpiece to vape! Wearing it with the lanyard around your neck will be like an indispensable stylish accessory that you can take and show off anywhere.
Adjustable Airflow
Ursa Pod Compatible
Type-C Charging
VISUALLY APPEALING & STYLISH - Fascinated by the way of the clear façade design with even matching battery housing design, you are able to see all the internals in the Ursa Baby Pod Kit.
THE ACE OF FLAVOR - Impressed by the unassuming power of the Ursa Baby, far beyond what you would expect from such a small device, you can easily taste the flavor popping, smooth vapor, and restrictive lung hit from it.
ADJUST YOUR AIRFLOW - The effective airflow control slider, once set to your preferred air intake, will produce anywhere from a tight MTL draw to RDL.

Specifications:
Dimension: 47mm x 16mm x 68.5mm
Power Range: 9W to 18W
Battery Capacity: 800mAh internal
Battery Voltage: 3.0V-4.2V
Pod Capacity: 2.5mL
Output Current: 2.5QA-5.0A
Body Material: Transparent PC
SMART POD DETECTION - The Ursa Baby Pod Kit will automatically detect the coil resistance of the pod and maintains a stable output.
LEAKPROOF DESIGN - Continuing to utilize the Ursa Pods with leakproof design makes the Ursa Baby more secure and comfortable to use for any level vaper.
SMOOTH MAGNETIC CONNECTION - Both the small magnets on the underside make a very strong connection with the battery section. The pod will remained seated in an upright, locked position, without wiggling, for the entirety of your vaping experience.
MAXIMUM 18W OUTPUT POWER - Ursa Baby allows a rapid firing and power output of up to 18W, providing a responsive auto-draw every single time.
BUILT-IN 800MAH BATTERY - Ursa Baby Pod Kit packs an internal 800mAh battery that performs admirably and will last all day for most vapers.
SMART CHARGING INDICATION - There's plenty of visual attention to detail going on with the Ursa Baby including the LED indicator light shining through the transparent box to indicate the battery levels.
Battery Levels Showing: Red <3.7V<Blue<3.9V<Green

TYPE-C FAST CHARGING - Connect the Type-C port to a power source. The LED indicator will show the current battery level before turning green to indicate charging, remaining on until fully recharged.
FASHIONABLE ELEMENT - There is an included lanyard with the Ursa Baby, perfectly suitable for around your neck.
MULTIPLE PROTECTIONS - Safety measures include short-circuit protection, weak battery protection, overheat protection, and 10 seconds overtime protection.
Box Contents:
1 x Ursa Baby Pod Device
1 x Ursa 0.8Ω Pod
1 x Lanyard
1 x Type-C Charging Cable
1 x User Manual
1 x Warranty Card