Lost Vape URSA Baby 2 Pod Kit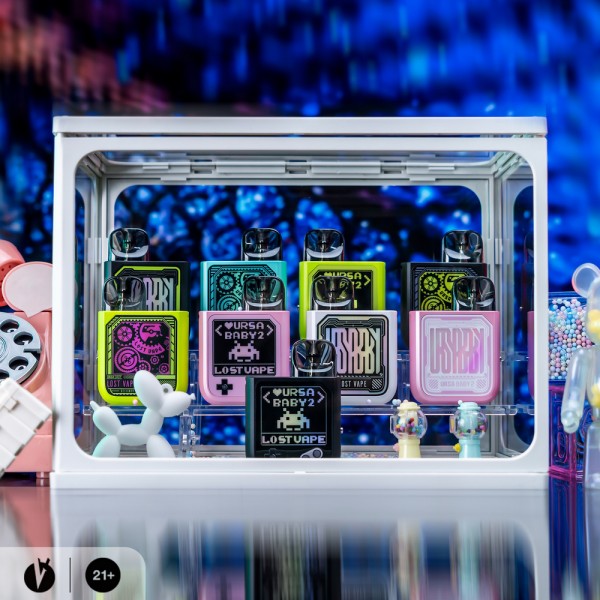 Lost Vape URSA Baby 2 Pod Kit
K I C K J O Y , K I C K P O P .
Unleash your style with URSA Baby 2 from Lost Vape, a trendsetting vape that blends fashion and individuality. With its 1.3 inch back-lit panel display with exclusive patterns, the URSA Baby 2 emits a captivating glow day or night. Experience seamless vaping through auto draw activation and synchronized light pulses and experience rich flavor with the 0.6Ω or 0.8Ω URSA Cartridges. The distinctive design speaks volumes with joy and pop!
Trendy & Unique Design
Eye-Catching Back-Lit Panel
Up tp 33% Airflow Control Space
A NEW DIMENSION OF VAPING PLEASURE - The eye-catching back-lit panel design of the URSA Baby 2 displays a 1.3 inch unique decorative pattern. When the lights are off, a soft, captivating glow can be seen through the reflective layers of neon laser panel.
CAPTURE EVERY MOMENT - Whether you're vaping, charging, or refilling the URSA Baby 2, you'll see interactive lighting effects.
TRENDY & UNIQUE DESIGN - Unleash your individuality with the fashionable and distinctive appearance of the URSA Baby 2. Its eye catching design makes a bold statement with joy and pop.
Specifications:
Dimensions: 49mm x 17.5mm x 69mm
Net Weight: 48.5±5g
Pod Capacity: 2.5mL
Battery: 900mAh internal
Voltage Range: 3.0V-4.2V
Power Range: 7.5W-22W
Charging Voltage: 5V/1A
Charging: supports Type-C 5V/2A Charger
Body Material: Plastic
Safety Features: Short Circuit, Weak Battery, & Overheat Protections
MAXIMUM FLAVOR DELIGHT - Powered by the Lost Vape Quest 2.0 Chip, the URSA Baby 2 supports a maximum 22W power output for authentic flavor delivery.

FULL URSA CARTRIDGE COMPATIBILITY - Bundled with 0.6Ω and 0.8Ω resistance cartridges, the URSA Baby 2 matches most nic salts and freebase e-liquid. The cartridges are now available in more resistance options and now a choice of colored cartridges.

LESS MESS, MORE DEPENDABLE - With an easy side-refilling system and leakproof design, you won't have to worry about a messy experience with the URSA Cartridges.
Box Contents:
1 x URSA Baby 2 Device
1 x 0.6Ω URSA Cartridge (2.5mL)
1 x 0.8Ω URSA Cartridge (2.5mL)
1 x Type-C Cable
1 x Lanyard
1 x Manual
1 x Warranty Card