Lost Vape Thelema Solo DNA 100C Mod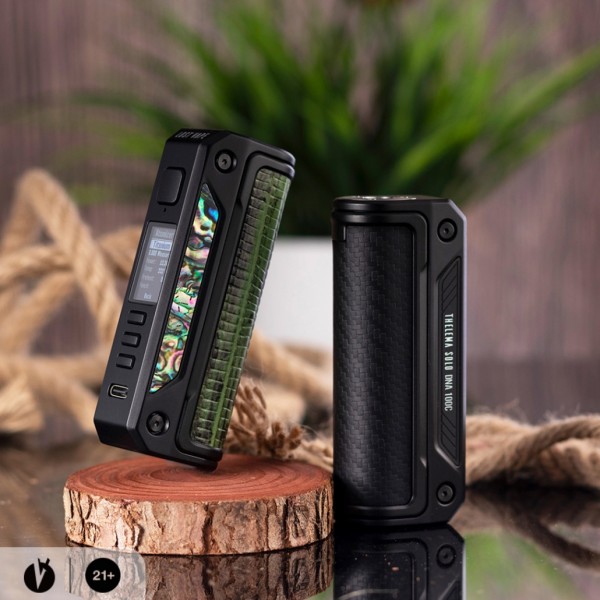 Lost Vape Thelema Solo DNA 100C Mod
Upon finally coming on stage, the Thelema Solo DNA 100C from Lost Vape will stun all the vapers with its exclusive and top performance. Back to the roots, Thelema Solo DNA 100C consists the most advanced DNA 100C chipset, plus its famous software upgrade, 3A fast charging, and Thelema replaceable battery cover design, which will stand the test of time.
ADVANCED EVOLV'S DNA 100C CHIP - Live up to the claim of being! The newest Evolv DNA 100C Chip is the real monster when it comes to power and function. It can reach 100 watts at its peak and attach the super precise temperature control.
THELEMA CONSISTENT C-FRAME BATTERY COVER - Combined with the most popular Thelema series replaceable battery cover design, Thelema Solo DNA 100C is the same that is able to easily to slide battery cover on and off and can be slotted in either way up.
MAXIMUM 100-WATT OUTPUT - Thelema Solo DNA 100C brings things up to date with the DNA 100C and 21700 battery combination, offering max 100W output. Similarly, it can be matched with single 20700/18650 battery.
Specifications:
Dimensions: 39mm x 28.5mm x 97.5mm
Weight: 150g
Power Range: 1W-100W
Battery: Single 21700/18650 (not included)
Input Voltage: 3.0V-4.2V
Battery Voltage: 5V
Output Voltage: 0.2V-9V
Current Range: 0.5A-35A
Temperature Range: 200°F-600°F (93℃-316℃)
Coil Resistance Supported: 0.15Ω-5Ω
Coil Material Supported: Nickel, Titanium, SS316, KA1, Ni80, Ni90
Screen Pixel: 0.96" 80*160
Body Material: Zinc Alloy
3A TYPE-C FAST CHARGING - The 3A fast charging applied on DNA 100C chipset is engineered to refuel devices faster than previous USB charging and to be 38% more efficient than most of the ordinary 2A charge devices on the market. Spend less time charging, and enjoy vaping more quickly.
FIRMWARE UPGRADABLE - With Evolv's Escribe software, Thelema Solo DNA 100C offers a wide degree of customization and allows you to configure, monitor, and modify exactly the way you want. What's more, Lost Vape offers the brand customized themes for download and update!
REPLAY & BOOST - In Replay: Capture the flavor and satisfaction of the "perfect puff", and provide the same level of performance and consistency for all subsequent puffs. In Boost: Briefly increase the power delivery at the start of firing to reach your desired vapor output faster.
ACCURATE TEMPERATURE CONTROL - The temperature control of the DNA 100C is also second to none. Thelema Solo DNA 100C is able to reach temperature quickly and flawlessly for all of the most popular coil materials.
TOP TIER RARE LEATHER - Top marks for initial presentation. A load of snazzy color and rare genuine leather combos, including the oyster white kingsnake leather which is the most desired option.
MULTIPLE PROTECTIONS - Multiple safety protections include atomizer protection, low resistance protection, short circuit protection, overheat protection, low voltage step down protection, and onboard reverse polarity protection.
Box Contents:
1 x Thelema Solo DNA 100C Mod
1 x Badge
1 x 18650 Battery Adapter
1 x Type-C Cable
1 x User Manual
1 x Warranty Card