Lost Vape Hyperion DNA 100C Mod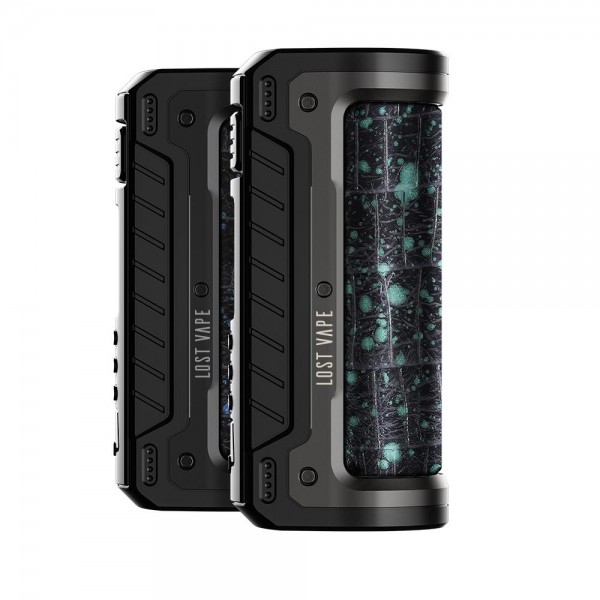 Lost Vape Hyperion DNA 100C Mod
T H E M O S T D U R A B L E D N A M O D .
Stronger Than Ever --- With the newest DNA 100C chip embedded in the military-grade materials, the Hyperion DNA 100C Mod from Lost Vape creates an unprecedented vaping experience as it is stronger than ever in terms of durability and functionality.
Authentic Leather Covered --- Inherit the excellent top-notch and high-end quality of a Lost Vape device. The Hyperion is built with authentic leather to make it comfortable to hold in your hand.
Technical Parameters:
Dimensions: 44.5mm x 34.5mm x 95mm
Power Range: 1W-100W
Battery: Single 21700 / 20700 / 18650 (not included)
Input Voltage: 3.0V-4.2V
Output Voltage: 0.2V-9.0V
Current Range: 0.5A-30A
Temperature Range: 200°F-600°F
Coil Resistance Supported: 0.1Ω-3.0Ω
Coil Material Supported: Nickel, Titanium, SS316, KA1, Ni80, Ni90
Screen Pixel: 0.9" 80*160
Body Material: Zinc Alloy and Liquid Silicone Rubber
Maximum 100 Watt Output --- Powered by a single battery, the Hyperion offers a max 100W output to meet all your needs for sub-ohm and RDA vaping.
Military Grade Tri-Proof --- Rest assured to go anywhere!
>>> IP68 Waterproof <<<
Withstand water immersion up to 1 meter for p to 60 minutes!
>>> IP68 Dustproof <<<
Completely dust-tight and prevents the ingress of future dust.
>>> Shock Resistant <<<
Easily protected against accidental drops or other unforeseen collisions.
Upgraded 3A Type-C Fast Charging --- Get over the gap. Upgraded from the 2A and regular USB charging, the latest DNA 100C applies the fastest 3A with Type-C technology, making the Hyperion DNA 100C Mod faster than most other ordinary 2A charge devices on the market. Waste less time on charging and enjoy more time vaping!
Firmware Upgradeable --- With Evolv's Escribe software, Hyperion DNA 100C offers a wide degree of customization and allows you to configure, monitor, and modify exactly the way you want! Features include Replay Mode, Boost Mode, Preheat Mode, and Temperature Protection Mode.
Replay Mode: Capture the flavor and satisfaction of the 'perfect puff' while your mod provides the same level of performance and consistency for all subsequent puffs.
Boost Mode: Briefly increase the power delivery at the start of firing to reach your desired vapor output faster.
Accurate Temperature Control --- Based on the extremely accurate temperature control mode, the Hyperion DNA 100C is able to reach temperature quickly and flawlessly for all of the most popular coil materials.
Multiple Protections --- Atomizer protection, low resistance protection, short circuit protection, overheat protection, low voltage step down protection, and reverse polarity protection.
Box Contents:
1 x Hyperion DNA 100C Box Mod
1 x 18650 Battery Adaptor
1 x Type-C Cable
1 x User Manual