Lost Vape Cyborg Quest 100W Kit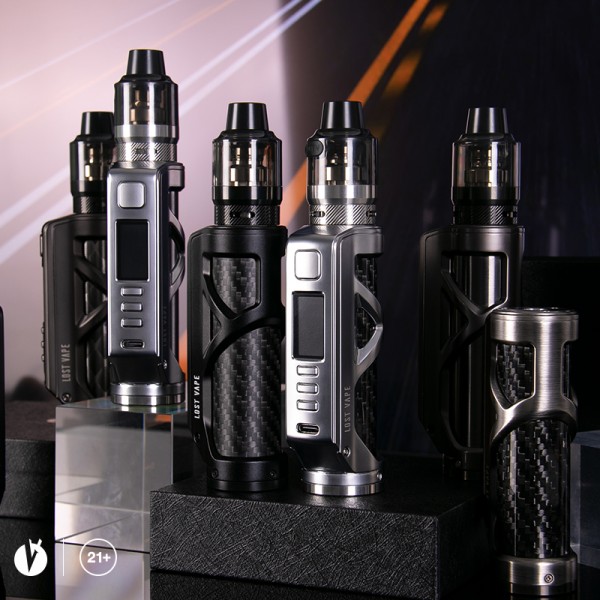 Lost Vape Cyborg Quest 100W Kit
B R E A K T H E R O U T I N E .
It's never too late to break out of those ruts we all get stuck in. The Cyborg Quest from Lost Vape was born to prove that taking intention to innovate something differently and would enliven us in some way, inspire feeling, and spark the imagination. The Cyborg Quest 100W Box Mod can be powered by a single 21700/20700 or 18650 battery (with adaptor) and is paired with the UB Pro 5mL Pod Tank, utilizing the UB Pro Coils.
PRESENT YOURSELF BY ATTITUDE - A creation for not just a vaper, but also a gamer. The Cyborg Quest features a special-shaped look, artistically and creatively designed to be able to stand out from the sameness in the vape world.
NEW SYMBOL OF PERSONALITY - The design of the Cyborg Quest has an exaggerated sense of simplicity and industrial, feeling the sparks from the metal and vape union, tend to be the milestones in vaping.
CYBORG QUEST --- THE VAPORWAVE IN CYBERPUNK - The new vape carrying of mind from Cyberspace, holding the Cyborg Quest in hand, giving you the immersive experience, admiring the difference of aesthetic perception.
MULTIPLE BATTERY OPTIONS - A single 21700 battery mod that's rated 100 watts, you can also use a single 18650 battery to use with an adaptor without any rattle or movement inside.

ACCURATE TEMPERATURE ADJUSTMENT - Combined with the thoughtful menu functionality for TC, you can immediately set what wattage you want it to go up to. The decent Cyborg Quest 100W Kit works in unison with the UB Pro 0.3Ω Mesh Coil for temperature control vaping to provide a brilliant flavor and cloud production.
Specifications:
Dimensions: 104mm x 32.6mm x 44.2mm
Weight: 193g
Power Range: 5W to 100W
Battery: 21700/20700/18650 Single Lithium Battery (not included)
Input Voltage: 5V
Battery Voltage: 3.0V-4.2V
Output Voltage: 0.7V-8V
Current Range: 1A-35A
Temperature Range: 100°C-315°C / 200°F-600°F
Coil Resistance Supported: 0.1Ω-5.0Ω
Coil Material Supported: Kanthal, Nickel, Titanium, SS316, SS904
Screen Pixel: 96" 80*160
Body Material: Zinc Alloy
PRIORITY QUEST 2.0 CHIP - Being a new rising star in Quest line, the Cyborg Quest is equipped with a Quest 2.0 Chip just like the URSA, GRUS and Thelema Quest, supports various steam modes, allowing users to set performance curves.
FIVE VAPING MODES - The Cyborg Quest has 5 vaping modes; VPC Mode, Bypass Mode, Voltage Mode, Wattage Mode, and Temperature Control Mode (SS904/SS316/Ti/Ni).
THREE USER RECORDS - Allows you to create presets of different modes and easily switch between 3 user records while using normal coil, TC coil, and RBA.
TYPE-C CHARGING - The Cyborg Quest 100W Kit has a built-in DC 5V Type-C port. Connect the Type-C cable to a power source, the battery icon will begin to animate and stop animating once fully charged.
Box Contents:
1 x Cyborg Quest 100W Box Mod
1 x UB Pro Pod Tank 5mL
1 x UB Pro P1 0.15Ω Coil
1 x UB Pro P3 0.3Ω Coil
1 x 18650 Battery Adapter
4 x O-Rings
1 x Type-C Cable
1 x User Manual
1 x Warranty Card