Lost Vape Centaurus B80 AIO Kit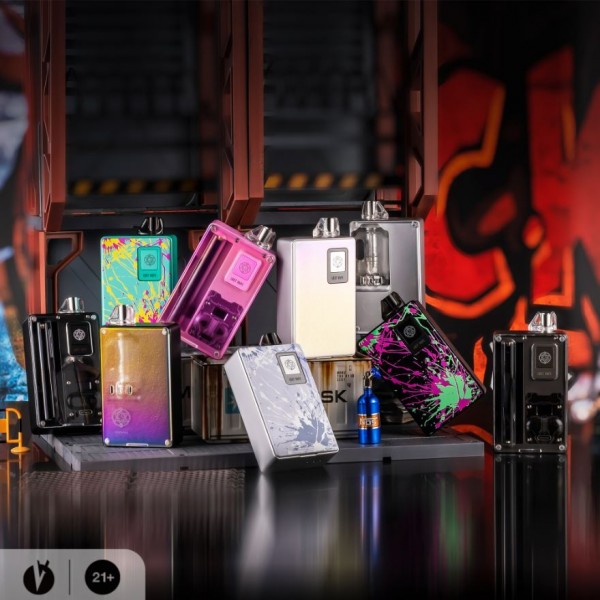 Lost Vape Centaurus B80 AIO Kit
O N E I S A L L . A L L I S O N E .
The Centaurus B80 AIO is one of two new devices from Lost Vape with an all-in-one mod design, featuring various replaceable distinctive looks, powered by a single 18650 battery. The included Centaurus Boro Tank allows for customization and DIY builds while the UB AIO Pod, which can be used with the UB Ultra Series Coils, can be utilized for RDL and MTL vaping. Both featured tanks support an ample 5mL capacity. Sporting a max 80W output power, the Centaurus B80 AIO supports dual-mode operation that can be switched on the large 0.42" OLED display screen. More upgraded performance allows you to binge on pleasant puffing.
MAX 80W POWER OUTPUT - Facilitated by the advanced Quest 2.0 Chip, the Centaurus B80 AIO has an impressive 80W max power output when paired with a single external 18650 battery. This ensures uninterrupted operation during extended use as it offers reliability to meet your precise power requirements.
Centaurus B80 AIO Specifications:
Dimensions: 80.8mm x 50mm x 24.4mm
Net Weight: 150±5g
Battery Capacity: 1 x 18650 Battery (not included)
Battery Voltage: 3.0V-4.2V
Power Range: 5W-80W
Charging Voltage: 5V/1.8A
Type-C Cable: Supports 5V/2A Charger
Display: 0.42" OLED Screen
Body Material: Zinc Alloy & Stainless Steel
Powered by: Lost Vape QUEST Chip
Safety Features: Short Circuit / Weak Battery / Overheat Protection
UNLIMITED COMBINATIONS - With our quick-change dual-sided face panel, dive into a world of boundless surface styles with our wide range appearances. The panel cover achieves perfection with flawless 3.5 inch diagonal seams, providing both a visually stunning finish and a comfortable grip size for ease of handling.
YOUR AIRFLOW, YOUR WAY - The Centaurus B80 AIO offers two different airflow direction options: front airflow and side airflow. Both are identical in size to provide consistent performance. This design allows you to choose according to your needs, regardless of how you hold the device, to ensure optimal airflow performance.
HEAT SINK STRUCTURE - Bottom cooling holes.
Centaurus Boro Tank Specifications:
Dimensions: 25.9mm x 16.9mm x 39.35mm
Net Weight: 35.85g
Tank Capacity: 5mL
Tank Material: PCTG, SUS303
Airflow Pin Inner Diameter: 1.0mm, 2.0mm, 3.0mm (pre-installed)
UB AIO Pod Specifications:
Dimensions: 25.8mm x 16.3mm x 38.6mm
Net Weight: 18g
Tank Capacity: 5mL
Tank Material: PCTG
Resistance Supported: 0.15Ω-2.0Ω
Compatible with: UB Ultra Coils (0.15Ω, 0.2Ω, 0.3Ω)
NORMAL OR RBA - The Centaurus B80 AIO comes with both the Centaurus Boro Tank for DIY builds and the UB AIO Pod with UB Ultra Coils. The Centaurus Boro Tank has a 5mL e-liquid capacity, unique flavor customization capabilities, precision DIY in RBA mode, liquid lock assurance, and included different airflow pin options so you can create your ideal airflow. The UB AIO Pod also has a 5mL e-liquid capacity, a leakproof design, and stepless adjustable airflow. The UB Ultra Coils are ideal for both RDL and MTL flavor.
SEAMLESS ZINC ALLOY - Every detail of AIO structure is crafted to perfection. From the careful selection of materials to the precision engineering, we leave no room for compromise.

Kit Contents:
1 x Centaurus B80 AIO Device
1 x UB AIO Empty Pod 5mL
1 x Centaurus Boro Tank 5mL
1 x UB Ultra M7 Coil 0.2Ω
1 x UB Ultra M8 Coil 0.15Ω
7 x Drip Tip Rings (6 x Silicone Rings + 1 x Metal Ring)
1 x Tank Parts Pack
1 x Metal Spanner
2 x Drip Tips

1 x Type-C Cable
2 x User Manual
1 x Warranty Card