JoyEtech ESPION Tour Kit w/ Cubis Max Tank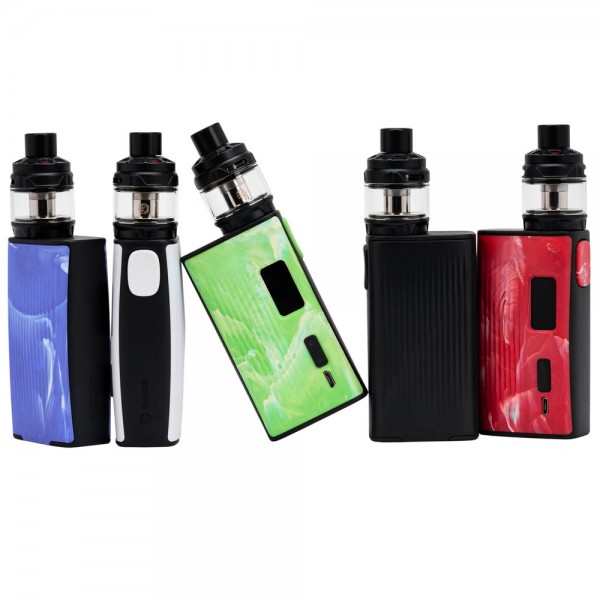 JoyEtech ESPION Tour Kit w/ Cubis Max Tank

Introducing the innovative JoyEtech NCFilm heater along with the CUBIS Max tank. Being a coil-less design, this NCFilm heater can be easily cleaned thus supports a long lifespan. The CUBIS Max atomizer allows a simple replacement of cotton for a pure and delicate vaping experience. The ESPION Tour is powered by dual 18650 cells, reaching a formidable 220W output and 2A quick charge. You can easily manage it with a intuitive 0.96 inch display. Having the top-fill and top-airflow system, you're free of any leakage. Best at 40W, you can enjoy a huge but flavored clouds. The idea comes from the suitcase, remember to bring the kit when you're on the tour.
POWERFUL YET SUPER LIGHT - The ESPION Tour is capable of outputting 220W power, providing you with huge vapor production. It feels super light when you hold it in hand.
INTUITIVE OLED DISPLAY - It's always great when there's a screen on a device. The 0.96-inch intuitive display presents you with everything you need.
DUAL REPLACEABLE 18650s - It's always convenient to use replaceable 18650 cells. Simply open the cover from the bottom as directed.
Specifications:
Size: 48.0*33.0*140.0mm
Weight: 147.5g (no cell)
Colors: Black, White, Red, Green, Blue
Battery using: dual high rate 18650 cells (CDR ≥ 25A)
E-liquid capacity: 5.0ml
Heater: Joyetech NCFilmTM heater (Kanthal 0.25ohm, 35-45w)
Screen: 0.96-inch OLED display
Output: 1-220W
Modes: POWER/TEMP(NI/TI/SS)/TCR
Resistance range: 0.05-1.5ohm for TEMP/TCR mode
0.05-3.5ohm for POWER mode
Max charging current: 2.0A
Max output current: 48A
Max output voltage: 8V
COIL-LESS DESIGN, INNOVATIVE NCFILM HEATER - Introducing the innovative JoyEtech NCFilm heater, made of Kanthal, takes a horizontal building way in order to achieve great vaping experience.
HUGE CLOUDS AND OPTIMAL FLAVOR - The NCFilm heater has a larger heating area which contributes greatly to the vapor production and the flavor.
LONG LIFESPAN - The NCFilm heater can be cleaned with cloth when flavor drops and re-use again. Thus it supports 3 months or more lifespan according to our experimental tests.
1:Test condition: 60vg e-juice, 800 puffs per day, 40w.
FILLING WITH EASE - The CUBIS Max atomizer adopts the push-to-open top filling design. Simply push the top cap to reveal the filling hole. Then you're free to go.
TOP AIRFLOW AVOIDS ANY LEAKS - The CUBIS Max atomizer adopts top filling and top airflow system, avoiding any leaks.
2A QUICK CHARGE - With 2A maximum charging current, the ESPION Tour can be completely charged more quickly than the normal ones.
MULTIPLE PROTECTIONS FOR SAFE VAPING - The onboard reverse polarity protection protects the device from damage in the event of reverse battery installation. It also applies two sets of battery protection circuit system, realizing overall battery protection of over-charging, over-current and over-discharging, which makes it more safe and reliable.
UPGRADEABLE FIRMWARE - The ESPION Tour comes with the upgradeable firmware. Go to http://www.joyetech.com/mvr-software/ to download the latest firmware (if available) to update.
CHARGING - Please always use high-rate 18650 battery for the ESPION Tour. Simply connect it to the wall adapter or computer with a USB cable. When fully charged, the screen will go out. Still you can take out the cell and charge it in a separate charger.
Kit Includes:
1 x ESPION Tour (no cell)
1 x CUBIS Max atomizer
2 x NCFilm heater
1 x QC USB cable
2 x Manual
1 x Warranty card
2 x Warning card
Spare parts