Innokin iTaste Kroma-A and iSub-B KIT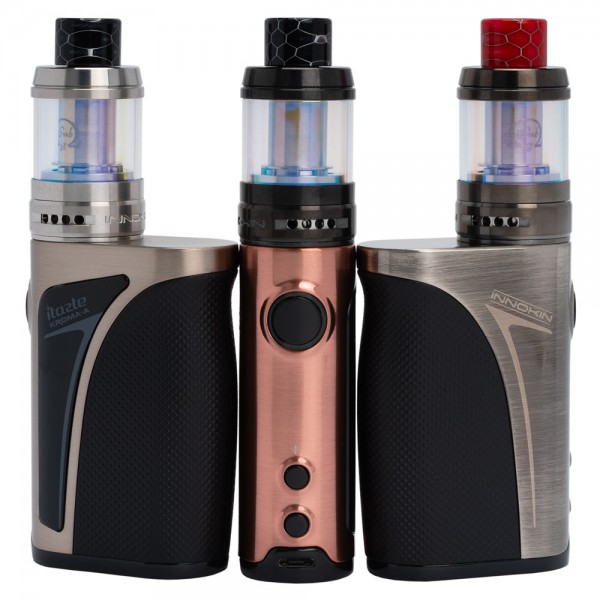 Innokin iTaste Kroma-A and iSub-B KIT
The ultra-compact and ergonomic Kroma-A Vaporizer from Innokin has a maximum output of 75W with a 2A micro-USB quick-charge! Paired with the brand new iSub-B Tank with Plex3D 0.35 ohm mesh coils, you'll enjoy more flavors and a greater number of puffs per charge.
The iSub-B is the first Innokin iSub tank powered by advanced Plex3D Coils with 3D mesh which use less power to deliver bigger flavors and clouds. Plex3D Coils advanced coil design with 'Micro-Grooves' increases the surface area and produce amazing flavors at 30-55W. Plex3D Coils rapidly heat up and cool-down faster than traditional coils, extending coil life and the organic cotton and wood pulp wicking improves e-liquid coil flow and boosts flavors. Crafted with high quality stainless steel and Rainbow tinted Pyrex Glass, the iSub-B twists to open and features automatic flood prevention when filling.
The Kroma-A high quality 24mm threading is compatible with all 510 tanks and the iSub-B features a replaceable 510 Resin Drip tip.
Kroma-A Mod Features:
Ultra-compact, ergonomic 'grip' design.
6 -75Watt output with Temperature Control
2000mAh internal battery with 2Amp microUSB Quickcharge
Vape while charging
Integrated battery safety protections
iSub-B Tank Features:
Twist to open Top-Cap.
'Four Point' Adjustable Airflow.
High Quality Stainless Steel and Rainbow tinted Pyrex Glass.
Automatic fill-shield Prevents Flooding When Filling.
510 Replaceable Mouthpiece.
Durable 510 Connection
iSub Plex3D Coil Features:
Next Generation 3D Mesh Coil Technology
Plex3D Pattern with 'Micro-Grooves' Boosts Flavors.
Ultra-Rapid Heat-up and Cool-down Extends Coil Life.
High Efficiency Coil Power Flow.
Organic Cotton and Wood-Pulp Wicking.
30 – 55 Wattage Range (0.35Ω KAL)
Plex3D Coil is Compatible with Innokin iSub Tanks.
Kit Contents:
1 x Kroma-A Mod
1 x iSub-B Tank
1 x Plex3D 0.35 Ohm Coil (pre-installed) (30-55W)
1 x Extra Plex3D 0.35 Ohm Coil (30-55W)

1 x Vape Band
1 x Spare Glass
1 x Quick Start Guide
Spare O-Rings