Innokin Adept Zlide Kit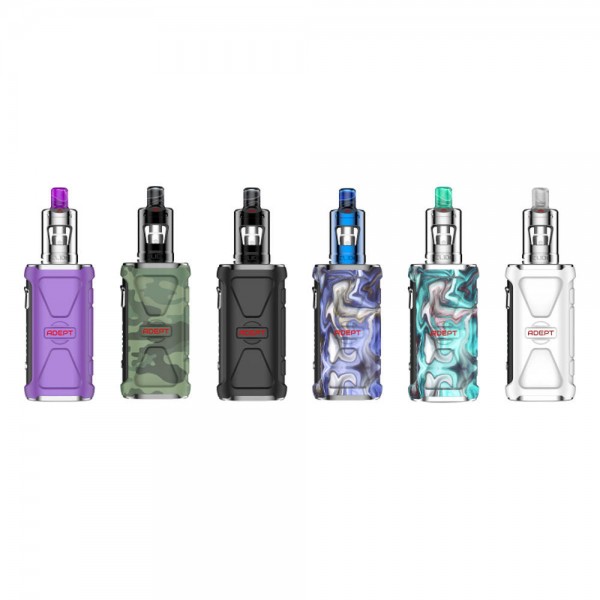 Innokin Adept Zlide Kit

Compact, Durable and Smart MTL Box Vaporizer. Unleash the full potential of Innokin's bestselling Zenith (Z-Coils) with the Adept! The Adept compact box mod is ergonomic and comfortable to grip; available in six durable soft-touch rubberized finishes: White, Black, Purple, Sky, Ocean and Forest Camo. Rated IP67 Dust proof, Waterproof and Shockproof, the Adept is built strong for real life.
Attach your favorite Zenith (Z-Coil) tank and the Adept auto-selects the ideal wattage range. The select button cycles through four optimized wattage levels on an easy to read LED display:
gt;1.0ohm: 11.0W-12.0W-13.0W-14.0W
lt;1.0ohm: 14.0W-15.0W-16.0W-17.0W
Big power, small size! The Adept features a long lasting 3000mAh internal battery with 2Amp micro USB quick charge and the tri-color LED clearly indicates battery level. On-board safety protections include: over discharge, overcharge, over voltage, short circuit protection, overheat protection, high resistance protection and cut off Protection.
Specifications:
Battery: Internal battery
Battery capacity: 3000mAh /3.7V
Voltage: 5.5V
Cut off time: 10sec
Tank capacity: 2ml (Zlide tank)
Max. Output current: 6.5A
Resistance range: 0.4-3.0Ω
Thread Type: (Ego/510) 510
Charging Current: 5V2A
Minimum / Maximum Wattage:
Tank with 1.0ohm above,11.0W 12.0W 13.0W 14.0W
Tank 1.0ohm below ,14.0W 15.0W 16.0W 17.0W
Note: For resistant = 0.1ohm. According to the resistant detection to decide the output. For the resistant above 2.1ohm, max voltage is 5.5V.