iJoy KATANA 4-in-1 Atomizer Set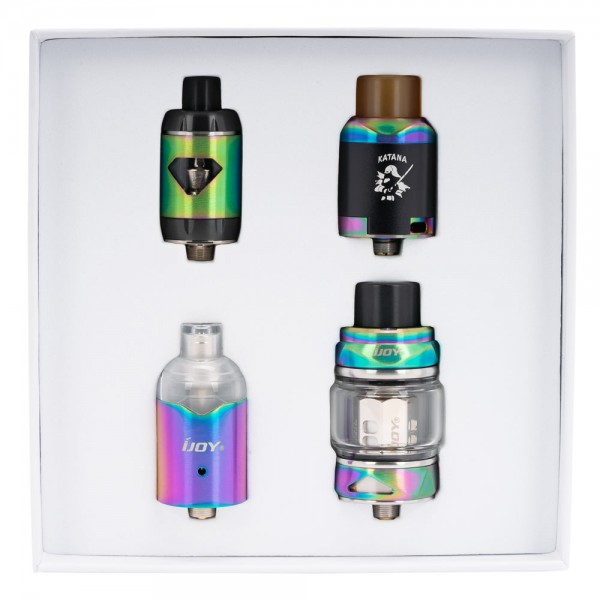 iJoy KATANA 4-in-1 Atomizer Set
Four Atomizers in one kit?! The KATANA Universal 4-in-1 Set from iJoy comes complete with any atomizer you could need for a full vaping experience. Are you ready to get your vape on?
The iJoy KATANA Sub-Ohm Tank utilizes a new design with a modern streamline appearance and a convenient Slide-n-Fill top cap design for easy refilling and to prevent leakage. With the application of 5.5mL e-liquid capacity to provide ample space for liquid storage. Featuring innovative KM1, KM2, KM3 mesh wire coils and natural fiber cotton to enlarge the heating area, and the use of mesh offers greater flavor, bringing you outstanding clouds with long service life, it also carries balanced triangular adjustable bottom airflow system, which is comparable to RDA's Sub-Ohm Tank. The iJoy KATANA Sub-Ohm tank is definitely an irreplaceable vaping component for you.
Dimensions: 57.7mm x 28mm
Diameter: 25mm
Capacity: 5.5mL with Bubble tank

4.0mL with included extra tank

Slide-to-Fill Top Cap
New KM Coil Family
KM Coil Series, X3 Coil, DM coil Family all compatible with KATANA Tank
Fully Adjustable Bottom Airflow

Triangular airflow holes for best flavor
The iJoy KATANA RDA is the newest rebuild-able dripping atomizer from iJoy ECig. Featuring a 24mm diameter with a two post clamp design for larger builds and a dual bottom velocity style airflow for best flavor and cloud production. With the gold plated BF (Bottom Feeder) pin for squonker mods and 810 PEI drip tip, the KATANA RDA is an ultimately great vaping device for most DIY lovers.
Dimensions: 24mm x 43.8
Build Deck

Two Post Bridge Clamp Design
Velocity Style Airflow
Single and Dual Coil Builds compatible

Gold Plated BF Squonk Pin
810 PEI Drip Tip
The iJoy ELF MTL Tank is a mini atomizer that is both sleek and compact. The ELF Tank features a threaded top fill with a five level adjustable bottom airflow perfect for mouth to lung vape style perfect for high nic e-liquid. The Elf utilizes a 2mL max e-liquid capacity with a plug and pull coil design. The coil itself features a ceramic atomizing core design for long service life with full flavor and strong stability.
Dimensions: 20mm x 45.2 mm
E-Liquid Capacity: 2mL

Best with 50/50 e-liquid ratio

ELF Coil Family

Plug and pull Coil Design - Unthreaded
1 x 1.0

Ω

Elf MTL mesh coil

(

1.0

Ω

6-12W 2.8-3.4V Best 10W/3.3V

)

1 x 1.6

Ω

Elf MTL ceramic coil

(

1.6

Ω

7-13W 3.3-4.0V Best 8W/3.8V

)

Compact and portable
Personalized Design, with a unique experience

Adjustable Airflow (5 Level Adjustment)

Adjustment Levels : 0.8mm, 1.0mm, 1.2mm, 1.5mm, 1.8mm

Perfectly restore different concentrations of Nic Salt

0.8mm 50mg-60mg for Nic Salt

,

3.3V
1.0mm 40mg-50mg for Nic Salt

,

3.3V
1.2mm 30mg-40mg for Nic Salt

,

3.6V
1.5mm 20mg-30mg for Nic Salt

,

3.9V
1.8mm 10mg-20mg for Nic Salt

,

4.2V

Real MTL Vape Experience
iJoy's VPC UNIPOD, a practical device designed for Vape, Pod, and CBD atomizer. The VPC UNIPOD is a pod composed of the VPC Adapter and VPC Pod. Featuring a 2.0mL e-liquid capacity and a simple side filling method, the VPC Pod system is easy to use and operate. The VPC system can be used independently on any box mod with a 510 connection, revolutionizing the market's conventional cartridge + battery POD designs. VPC Pod adopts ceramic heating core, which has good flavor, a high degree of heat dissipation, long service life and sufficient atomization effect. It can be perfectly applied to nicotine salt and CBD!

Size: 19mm x 41mm
Capacity: 2mL
Resistance: 1.0 ohm (rated for 10-15W)
Coil: Ceramic
Side Filling
VPC UNIPOD Base is a 510 Connector
Includes a UNIPOD Silicon Adapter to add compatibility with popular pod cartridges
Kit Includes:
1 x KATANA Sub-Ohm TANK
1 x KM1 Coil 0.15ohm (40-80W) (pre-installed)
1 x KM1 Coil 0.15ohm (40-80W)
1 x Katana RDA
2 x Mesh Heating Element
1 x VPC UNIPOD
2 x VPC UNIPOD Coils 1.0ohm (rated for 10-15W)
1 x ELF MTL Tank
1 x 1.0

Ω

Elf MTL Mesh coil

(

1.0

Ω

6-12W 2.8-3.4V Best 10W/3.3V

)

1 x 1.6

Ω

Elf MTL Ceramic coil

(

1.6

Ω

7-13W 3.3-4.0V Best 8W/3.8V

)

1 x Replacement Glass
1 x Tool pack
1 x Manual
1 x Warranty Card