Holic MTL RDA by VapeFLY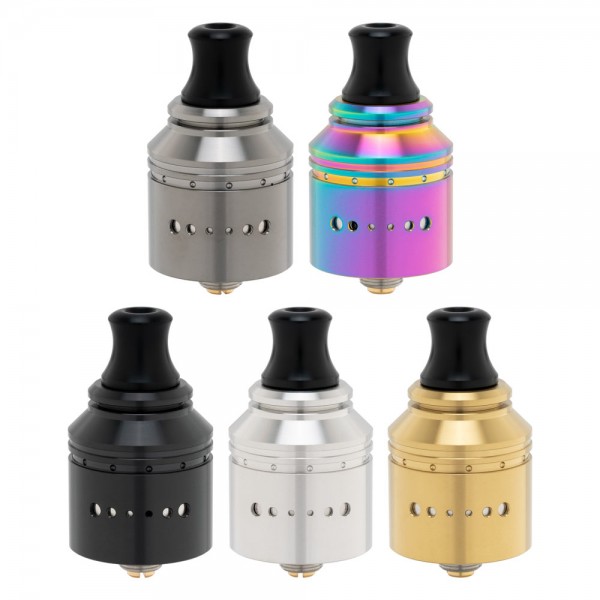 Holic MTL RDA by VapeFLY
A P R O J E C T F R O M V A P E F L Y & H O R I C K T V .
HORICK TV is an experienced Japanese vape reviewer, who loves vaping and chases for excellent flavor. Not to mention he's a HUGE fan of Galaxies MTL Series from VapeFLY. Meanwhile he is an amateur lover of sleek motorcycles. In pursuit of fashion and excellent flavor, we combined these two features, while making some improvements on the Galaxies Series, and finally came up with the Holic MTL RDA. This RDA will rise the tide of a new vape trend.
Parameters:
Diameter: 22.2mm
Height (including drip tip): 41.7mm
RDA Material: Stainless Steel
Drip Tip Material: Delrin
Coil Type: Single Coil
Colors: Black, Rainbow, Gunmetal, Gold, & Stainless Steel
The Holic MTL RDA produces fabulous flavor with 360° surrounding airflow with six levels of airflow control. It also features easy single coil building, a deep juice well that prevents leaking, and a bottom feeding option with the included BF Pin.
Box Contents:
1 x Holic MTL RDA
2 x Ni80 1.0Ω 26ga Pre-Built Coils
1 x Beauty Ring
1 x Bottom Feed Pin
2 x Screwdrivers
2 x Airflow Control Sets
2 x Firebolt Cotton
1 x Spare Parts Bag
1 x User Manual
Extra O-Rings and Screws