Hitoki Saber Modular Laser Pipe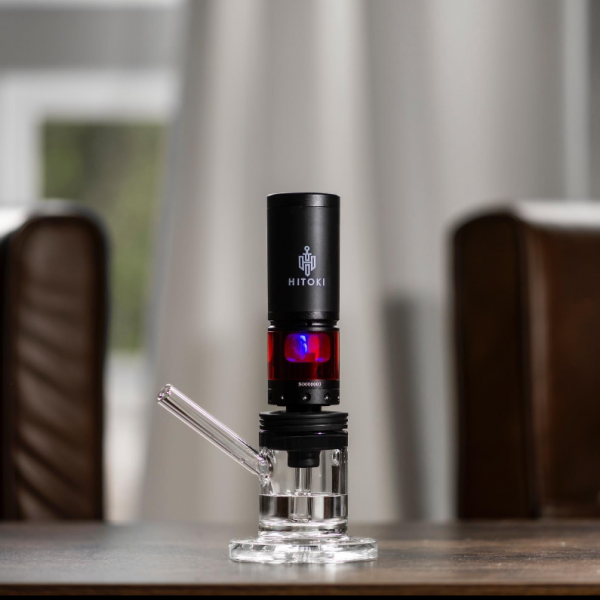 Hitoki Saber Modular Laser Pipe

P O R T A B L E H I G H T E C H T O K I N G .
The Hitoki Saber is the world's first modular laser consumption smoking device. Its patent-pending laser system is a compact and more portable rendition of the original Trident laser combustion device. Recommended to be used with the Hitoki Saber Bubbler (sold separately) and can easily attach to your favorite glass rig. The Saber has an adapter that lets you upgrade your glass piece with lasers for the ultimate tasting experience.
Functioning the same way as the Trident, the Saber works in a fashion akin to how using sunlight and a magnifying glass is used to burn flowers with a concentrated beam of light. This laser combustion process provides a healthy alternative to the butane lighters used with most loose leaf smoking methods. The combustion provided by the device is tasteless and at a calculated temperature to make sure all you are tasting is your weed.
The Saber's modular design makes it easy to attach to the Hitoki Bubbler or upgrade your favorite 14mm or 18mm glass water pipe with lasers and elevate your experience. The Saber is easy to use and even easier to clean.
Specifications & Features:
Laser Power for Instant Combustion
Aircraft-Grade Aluminum Exterior
Modular & Portable Design
Removeable Ceramic Loading Chamber
60 Uses Per Charge
LED Power Level Indicator
USB-C Charging
SINGLE BUTTON IGNITION - The Saber features a one button function with LED feedback that makes it user friendly, offering three power levels, indicated by color. Low (Red) is for dry blends, Medium (Green) for denser blends, and High (Blue) for blends infused with oils.
POWERFULLY COMPACT - The Hitoki Saber's compact size still packs plenty when it comes to battery power, producing an average of 60 uses per charge. It only takes a short 45 minutes to recharge using the included USB-C charging cable.
Box Contents:
1 x Saber Modular Laser Pipe
1 x Loading Chamber
1 x Poker
1 x USB-C Charging Cable
1 x Instruction Manual
PLEASE NOTE: The Hitoki Bubbler is not included.