HellVape Dead Rabbit M RTA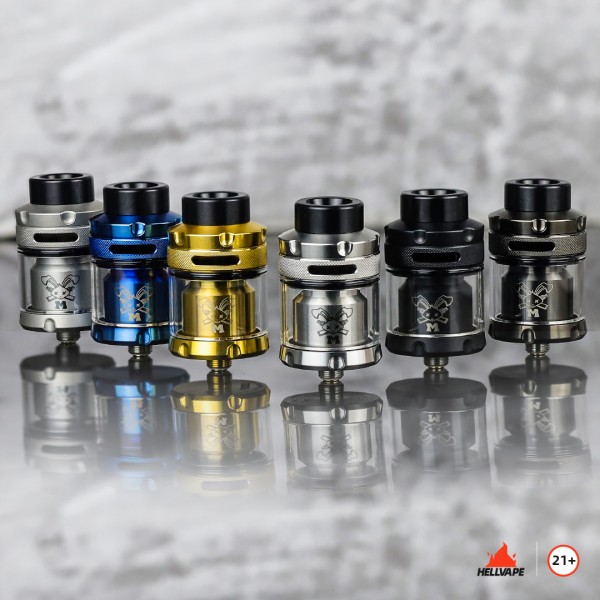 HellVape Dead Rabbit M RTA
A P R O J E C T B Y H E L L V A P E & V A P E R S B R A Z I L .
HellVape has teamed up with Vapers Brazil to release the Dead Rabbit M RTA! Now, if you are a mesh coil fan, you too can join the Dead Rabbit party. Features a 25mm diameter, constructed from 304 Stainless Steel, a top-filling system, adjustable airflow, and a build deck that accepts mesh coils or even a single traditional coil. The Dead Rabbit M comes with a straight glass AND a bubble glass, as well as a couple of different mesh coils so you can dial in your perfect vape.
Specifications:
Size: 25mm x 46.5mm
Drip Tip: 810
Capacity: 3mL/4.5mL
Net Weight: 60g
TOP-TO-SIDE INTERLAYER HONEYCOMB AIRFLOW - Avoids leakage and provides smooth airflow and concentrated vapor.
EASY TO BUILD COIL - With a postless ceramic deck, building the mesh coil or normal single coil can be done easily with the multifunctional coiling rod.
MORE CHOICES, MORE ENJOYMENT - Enjoy more options with either a mesh coil build or a normal single coil build.
0.15Ω Mesh SS316L Wire - Rated 50W to 60W
0.25Ω Mesh KA1 Wire - Rated 45W to 55W

CONVENIENT TOP FILLING - Supporting either a 4.5mL e-liquid capacity (w/bubble glass) or a 3mL e-liquid capacity (w/straight glass), it's just a simple quarter turn to open the top cap and easily refill with e-liquid.
Box Contents:
1 x Dead Rabbit M RTA
2 x 0.15Ω Mesh SS316L Wire
2 x 0.25Ω Mesh KA1 Wire
1 x Multifunctional Coiling Rod
4 x Max Shoelace Cotton
1 x Bubble Glass 4.5mL
1 x Accessory Bag
1 x User Manual