GOLISI i4 Smart Charger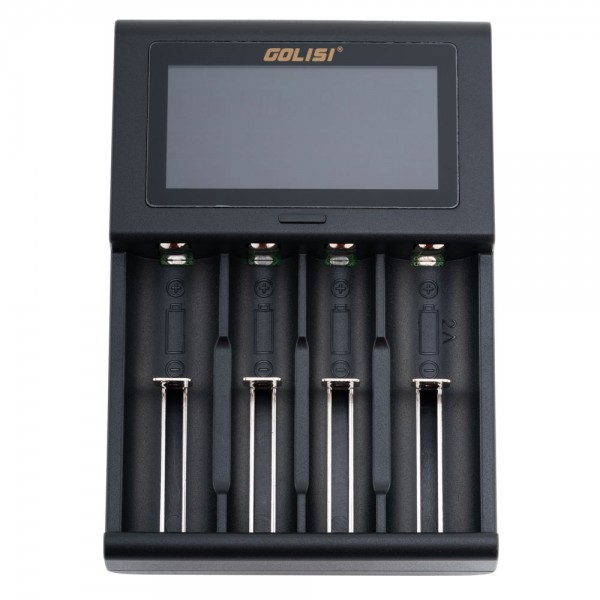 GOLISI i4 Charger

GOLISI i4 is the upgraded version of our star charger S4, it not only inherits the readout friendly on a large HD LCD screen and durable loading springs, i4 adopts USB power port to charge cylindrical rechargeable batteries of length ranging 32-70mm.
Input: DC 5V 2A
Output:

Li-ion: 4.20+-0.05V 2A*1 / 1A*2 / 0.5A*3 / 0.5A*4

Ni-mh / Ni-cd: 1.48V 0.5A*1 / 0.5A*2 / 0.5A*3 / 0.5A*4
Compatible With:

3.6V / 3.7V Li-ion: 18650, 26650, 20700, 21700, 18500, 18350, RCR123 etc.

Ni-mh / Ni-cd: AAAA, AAA, AA, A, SC, C

Operating Temperature: 1-40°C
The 9 Advantages of i4 Design Features:
Smaller, thinner than S4.

Same HD LCD design as S4; extremely visible and intuitive readout of charging percentage %.

Military Grade Loading Spring; >100K cycle life.

High quality USB cord.

Made with high quality ABS + PC fireproof materials.

Compatible with most rechargeable Li-ion and Ni-cd / Ni-mh batteries ranging 32-70mm in length.

Identify battery type and distribute current automatically.

Smart temperature control protection, reverse loading alarm, over-charging protection

2A Lightning Fast Charging in the "2A" slot.
Package Includes: 1 x i4 Charger, 1 x Power Cord, 1 x i4 Instruction Manual, 1 x Box
For more information from the manufacturer, click here.