GeekVape Wenax Q Kit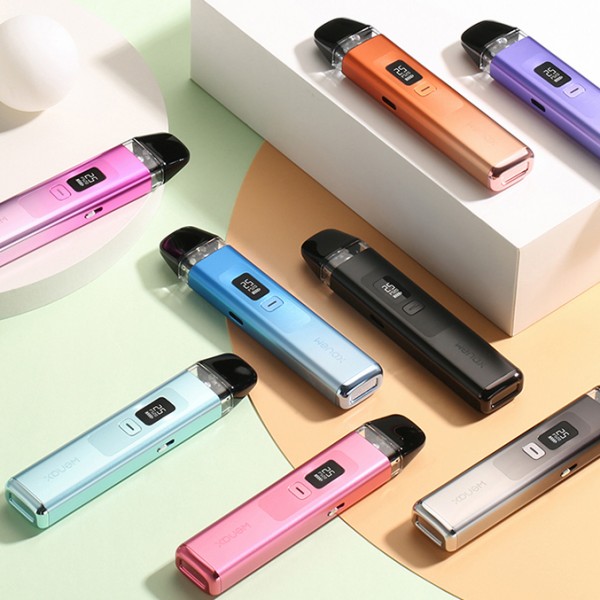 GeekVape Wenax Q Kit
Q U E S T F O R W O N D E R .
Wenax Q, all you need is in the palm of your hand! Compatible with the Geekvape Q Cartridge, the Wenax Q brings an extraordinary vape experience with precise control for airflow and output, an all-day battery use and a more intuitive device control with an HD OLED display. Prevent children from unintended touch by pressing the button 5 times. With the support of smart mode – an automatic resistance detection, do enjoy MTL & RDL at your will!
Q Cartridge Compatible
Precise Adjustments for Airflow & Output
HD OLED Display
PRECISE CONTROL FOR BOTH AIRFLOW & OUTPUT - The Wenax Q offers precise control for airflow, to produce thick or thin clouds, and precise control for output, to reach mellow flavor or intense throat-hits. If you want to be simple and easy, let the Smart Mode, the automatic resistance detection, do the job.
HD DISPLAY, QUEST FOR DISPLAY - With an HD OLED display joining, the Wenax Q created an unparalleled and more intuitive way to let you device display its information.
CHILDPROOF DESIGN, JUST PRESS TO SECURE - Simply press the button 5 times to prevent children from being able to access the device. A caring feature to secure our beloved ones while still being able to enjoy them yourself.
ALL DAY USE & STABLE OUTPUT - The Wenax Q provides an amazing endurance of all-day-use and enables a consistent flavor an stable output of up to 25W.
Specifications:
Dimensions: 23.8mm x 13.8mm x 108.91mm
Power Output: 5W-25W
Cartridge Capacity: 2mL
Coil Resistance: 0.6Ω/1.2Ω
Battery Capacity: 1000mAh
Display: HD OLED display & LED indicator on the bottom
Battery Status Instructions:
Red Light: <30%
Blue Light: 30%-70%
Green Light: >70%
Working Temperature: -20°-60°C
Overtime Protection: if one puff is longer than 10s±1s, red light blinks 2x and the device stops working
Short Circuit Protection: Red light blinks 8x and the device stops working
Low Battery Protection: Red light blinks 5x and the device enters standby mode after 30s
SOLID BODY, GLOSSY LOOK - Made of thicker aluminum, Wenax Q is more resistant to everyday wear and tear, making it more ideal for daily use. What's more, it's polished to look glossy, feel smooth to the touch, and handle safe.
Q CARTRIDGE COMPATIBLE - Enjoy both an MTL and RDL experience with the compatible Q Cartridge.
VPU --- THE FUTURE IS IN - With the latest VPU Tech, a better experience is provided - mellower taste, longer usage lifespan, and safer vaping.
Box Contents:
1 x Wenax Q Device
2 x Q Cartridges (2mL)(pre-installed: 0.6Ω (18W-25W) / spare: 1.2Ω (8W-12W))
1 x USB-C Cable