GeekVape B100 Kit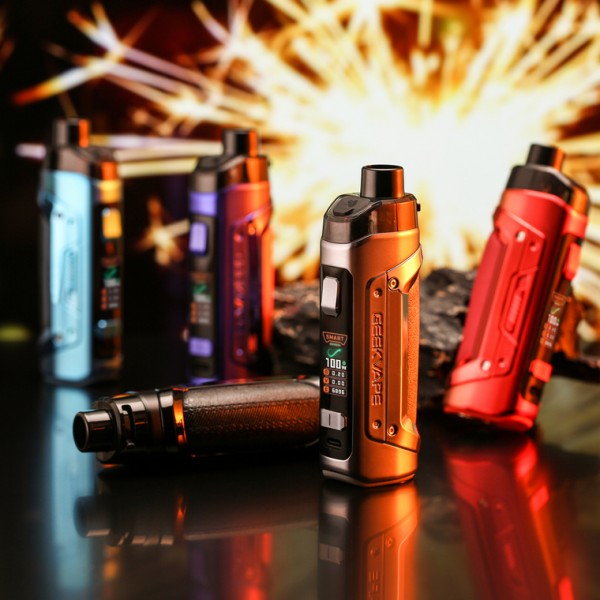 GeekVape B100 Aegis Boost Pro 2 Kit
N E W T R I - P R O O F . N E W B O O S T P R O .
Proudly introducing the new Aegis Boost Pro 2 from GeekVape, a new tri-proof boost-up pro. The leakproof B100 Pod Cartridge with 4.5mL e-liquid capacity paired with the new P Series Coil, offers a mind-blowing usage lifespan, providing an excellent experience with high compatibility. Double time, double fun!
NEW TRI-PROOF IP68 RATING - The second gen of GeekVape Tri-Proof Tech makes the B100 more compact. The IP68-rating water and dust resistance, as well as a higher level of shock resistance, together provide protection in harsher environments.
DOUBLE LIFESPAN WITH ALL NEW P SERIES COIL -Upgraded to twice the lifespan of regular coils, the new P0.15 XM Coil allows you to enjoy e-liquid of up to 60mL. Double time, double fun.
LEAKPROOF TOP AIRFLOW DESIGN - The new Boost Pro is equipped with a top airflow leakproof pod. The airflow enters via the side inlets, making it easier to reach the coil, resulting in superior flavor and more precise airflow control.
Specifications:
Dimensions: 43.73mm x 31.65mm x 121.21mm
Output Power: 5W to 100W
Battery Specification: 1 x external 18650 (not included)
Pod Capacity: 4.5mL
Charging Port: Type-C Port
Display Screen: 0.96inch curved screen
Operating Temperature: 0°C-45°C
Storage Temperature: -20°C-60°C
Relative Humidity: 45%RH-75%RH
Cooling Mode: Natural Cooling
Weight: 142.6g
AS-CHIP 3.0 --- INTELLIGENT WORKING MODES - AS Chipset is the powerful source of energy to complete all the complex tasks. SMART Mode automatically selects the best output for the best flavor and establishes a limit to the maximum output level to prevent coils from burning out.
BOOSTING MODE - BOOST Mode automatically selects the max output for the max clouds. Boost up the possibilities for flavor and vapors.
A-LOCK - Accidental Press Protection Lock makes the B100 safer to carry. A simple switch prevents inadvertent button presses from overheating or burning out your mod or coils.
0.96" CURVED DISPLAY - A large screen allows for a more immersive visual experience. Together with the newly designed UI, the vaping info gets more intuitive. Every detail is within vision.
Box Contents:
1 x B100 Aegis Boost Pro 2 Mod
1 x B100 Pod Cartridge 4.5mL
2 x P Series Coils (0.15Ω (70W-85W) (pre-installed) / 0.4Ω (50W-60W))
1 x Coil Tool
1 x Spare Parts Pack
1 x USB-C Cable
1 x User Manual