GeekVape AQ Kit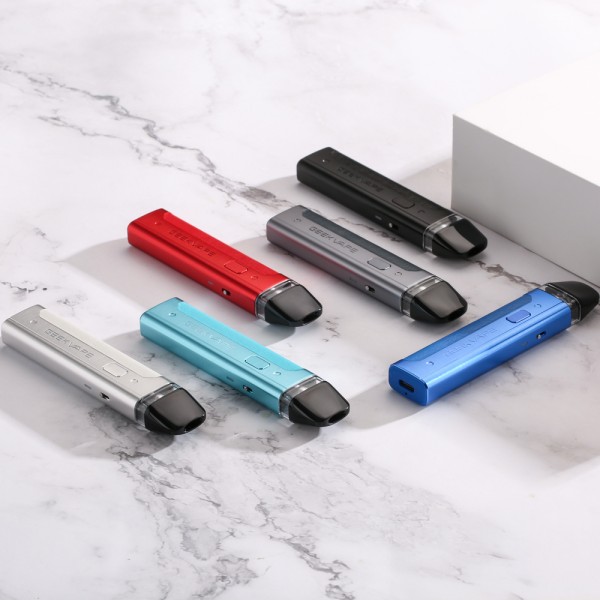 GeekVape AQ Kit
Q U E S T F O R A D V E N T U R E .
Meet the most reliable travel companion - the GeekVape AQ. Housed in robust aluminum alloy and smooth leather pieces, it offers a solid and comfortable grip. The tri-proof protection covers you wherever you go, and the top-fill Q Cartridge makes refilling effortless. Precise output and airflow adjustments are made to ensure unparalleled experiences. Let's gear up and embark on an adventure!
Tri-Proof Protection
Top-Filling Q Cartridge Compatible
Precise Adjustments for Airflow & Output
TRI-PROOF PROTECTION, DURABLE AQ - With tri-proof technology, the GeekVape AQ grants you the freedom to work and travel. It resists spills and splashes from everyday liquids. What's more, it is crack-resistant and dust-proof, holding accident-proof durability.
SINGLE BUTTON, MULTI-USE - Prevent overheating accident by pressing the button five times. After the Red LED indicator flashes three times, GeekVape AQ is safe to go. Enjoy three different output levels by simply pressing the firing button three times. Red indicates Low, Blue indicates Medium, and Green indicates High.
PRECISE AIRFLOW CONTROL, MADE EASY - Equipped with an airflow switch on the side, the GeekVape AQ allows you to customize every puff precisely and subtly from loose to tight.
ALL DAY USE & STABLE OUTPUT - The GeekVape AQ provides an amazing endurance of all-day-use and enables a consistent flavor an stable output of up to 25W.
Specifications:
Dimensions: 23.7mm x 13.7mm x 112mm
Power Output: 5W-20W
Cartridge Capacity: 2mL
Coil Resistance: 0.8Ω/1.2Ω
Battery Capacity: 1000mAh
Charging Port: Type-C
Breathing Light: 3 colors (Green/Blue/Red)
Battery Status Instructions:
Red Light: <30%
Blue Light: 30%-70%
Green Light: >70%
Output Adjustments Instructions:
Red Light - 3.1V
Blue Light - 3.4V
Green Light - 3.7V
Working Temperature: -20°-60°C
Overtime Protection: if one puff is longer than 10s±1s, red light blinks 2x and the device stops working
Short Circuit Protection: Red light blinks 8x and the device stops working
Low Battery Protection: Red light blinks 5x and the device enters standby mode after 30s
Weight: 49.4g (without packaging)
AEGIS STYLE, MASTERPIECE DESIGN - Following the Aegis style design, the GeekVape AQ looks chic, mixed with robust metal and smooth leather décor pieces. It feels sturdy ad comfortable to hold.

TOP FILL, TOP PICK - Snap off the drip tip, refill, and fuel up your day! Be sure the cap is well fixed when put back on!

Q CARTRIDGE COMPATIBLE - Enjoy both an MTL and RDL experience with the compatible Q Cartridge.
VPU --- THE FUTURE IS IN - With the latest VPU Tech, a better experience is provided - mellower taste, longer usage lifespan, and safer vaping.
Box Contents:
1 x AQ Device
2 x Q Cartridges (2mL)(pre-installed: 0.8Ω (12W-18W) / spare: 1.2Ω (8W-12W))
1 x Drip Tip Cap
1 x USB-C Cable