Galaxy CARTBOX 2.0 Cartridge Battery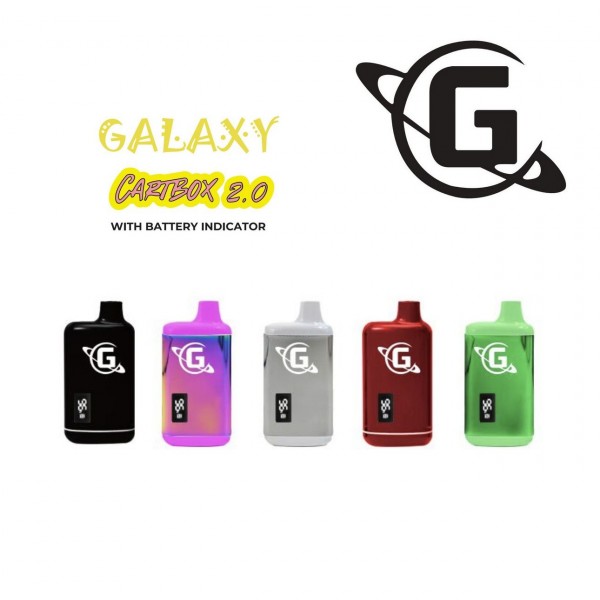 Galaxy CARTBOX 2.0 Cartridge Battery
(INNER PACKAGE of 6)
CARTRIDGE NOT INCLUDED

The new and improved Galaxy CARTBOX 2.0 is here and equipped with an all new battery indicator screen.
Designed to look like a regular old disposable vape on the outside, the CARTBOX 2.0 has a unique hidden 510 cartridge compartment on the inside that can house your favorite 1g or 2g cartridge.
Aside from the innovative new battery display screen, the CARTBOX 2.0 is packed with features that make it stand out from the competition. With its powerful 550mAh battery, it offers long-lasting battery life that can last for days on a single charge. The variable voltage with three settings (2.8V, 3.4V, 3.8V) allows you to tailor your vaping experience to your preferences and oil thickness, while the powerful preheat function helps prevent clogs and ensures a smooth hit every time.
Wanna puff on your fav cart discreetly? Then the very innovative and incognito Galaxy CARTBOX is exactly what you need. The Galaxy CARTBOX 2.0 is perfect for the cannabis oil enthusiast who wants to enjoy their oils on-the-go without attracting unwanted attention.

Variable Voltage 2.8V / 3.4V / 3.8V
Preheat Mode (1.8V)
550mAh Battery with USB-C Charging
Resistance Range: 0.8Ω-2.0Ω
Accommodates 1g & 2g Cartridges (Max Cart Size: 14mm x 63mm)
Each CARTBOX 2.0 is sold individually but are packaged in 6 count display boxes.