FreeMax Starlux 40W Kit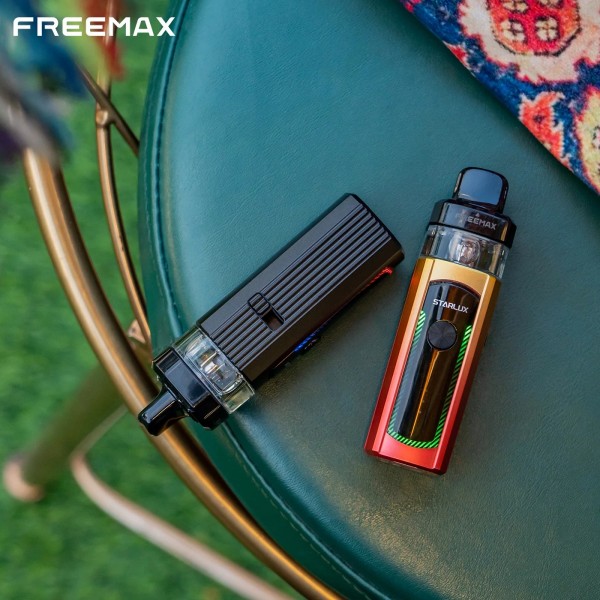 FreeMax Starlux 40W Kit
P O C K E T A I O T O B E A P R O .
Inspired by the bright, starlit sky, FreeMax introduces the Starlux 40W Kit as the next-generation pod mod with FM typical full spectrum lighting design. This super compact and powerful 40W AIO kit consists of a 4mL top-filling Starlux Pod and the Starlux 40W Box Mod. The Starlux Pod is equipped with FM Leak-Resistant Tech with ST Mesh Coil compatibility, which applies FM COILTECH4.0 technology, while the Starlux Box Mod is powered by a 1400mAh internal battery with Type-C charging.
Specifications:
Size: 30mm x 28mm x 99mm
Pod Capacity: 4mL
Resistance Range: 0.2Ω-3Ω
Battery Capacity: 1400mAh
Output Wattage: 40W MAX
Output Voltage: 3.2V-4.0V
SHINE LIKE THE STARS - In multicolor and unicolor modes, Starlux 40W will show colorful lights when vaping to provide a better interactive experience. Simply press the fire button two times to switch.
FM COILTECH4.0, TEA FIBER COTTON, & MILITARY-GRADE MESH - FM CoilTech4.0 has outstanding performance in making abundant clouds and amazing flavors at 15W-40W for RDL & DTL vaping.
ST Mesh 0.5Ω Coil
Output Power: 15W-20W (Best 18W)
Vaping Type: RDL
ST Mesh 0.35Ω Coil
Output Power: 25W-30W (Best 28W)
Vaping Type: DTL
SWITCH VAPING STYLES AT WILL - Push the slider to the left to enjoy RDL vaping or push it to the right to enjoy DTL vaping.
CREATIVE MAZE CHIMNEY DESIGN - The Starlux Pod applies FM Leak-Resistant Tech with a maze chimney on either side of the pod to extend the path of the excess e-liquid flowing through the chimney, thus effectively preventing leaking issues.
TOP FILLING, CHILD-RESISTANT, & CONVENIENT - Simply pull up and slide the top cap to fill the pod. Its body is transparent for monitoring the e-liquid level at any time.
REPLACEABLE & ERGONOMIC 510 DRIP TIP - The flat 510 drip tip is ergonomically shaped to fit the lips and can be replaced with any shape of 510 drip tip, according the personal preference.
BUTTON-ACTIVATED OR DRAW-ACTIVATED - Whether its draw-activated or button-activated, the Starlux 40W can bring unrivaled flavor and cloud with the very first hit. Press the button 4 times to turn the button-activated function on/off.
3-LEVEL CONSTANT OUTPUT VOLTAGE, DETECTS & MATCHES AUTOMATICALLY - Automatically match suitable output voltage based on the inserted coil resistance:
Resistance: 0.2-0.45Ω --- Voltage 3.2V
Resistance: 0.46-0.94Ω --- Voltage 3.6V
Resistance: ≥0.95Ω --- Voltage 4.0V
LARGE BATTERY FOR ALL-DAY VAPING - A large 1400mAh battery is built into the Starlux and can be recharged via the USB Type-C port. The symbolic U-shaped light-transmitting panel on the mod will show colorful lights during vaping but will also indicate the battery status.
MULTIPLE SAFETY PROTECTIONS - Safety protections include open circuit, overheating, low voltage, short circuit, overtime, overcharge, and over-discharge protections.
Box Contents:
1 x Starlux 40W Mod
1 x Starlux Pod 4mL
1 x ST Mesh 0.35Ω Coil (pre-installed)
1 x ST Mesh 0.5Ω Coil
1 x USB Type-C Cable
1 x User Manual
1 x Desiccant