FreeMax Onnix 2 Kit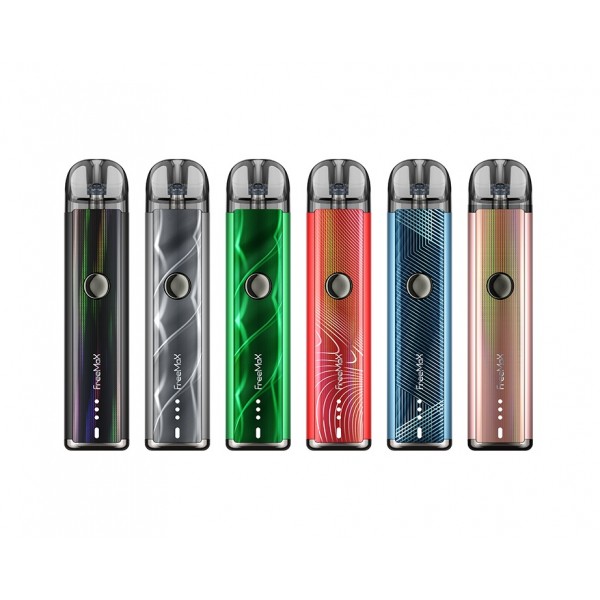 FreeMax Onnix 2 Kit
B O R N F O R H I G H S T R E N G T H .
The Onnix 2 Kit from FreeMax is a 15W compact pod system with a 2mL capacity pod and smart battery with automatic resistance recognition for high strength MTL vaping needs. The device has a 900mAh internal battery for whole-day vaping with a 2A Type-C fast charging port so you can get a quick, full charge in just 60 minutes.
ONNIX 20W KIT COMPARED TO THE ONNIX 2 (15W) KIT - While the Onnix 20W Kit is perfect for RDL vaping, compatible with 3-6mg freebase, the Onnix 2 Kit is perfect for MTL vaping as it's born for high strength 6-12mg freebase and 20-50mg nic salt based e-liquid.
STYLISH PANEL OPTIONS - Onnix 2 adopts a new generation of UV transfer technology and achieves a perfect overlay effect of different optical films and coating textures, therefore the kit is featured with higher reaction performance for more variable pattern effects.
Specifications:
Size: 15.3mm x 24.4mm x 109mm
Battery Capacity: 900mAh
Output Wattage: 7W to 15W
Output Voltage: 3.6V to 4.2V
Pod Capacity: 2mL
Coil Resistance: 0.5Ω / 0.8Ω / 1.0Ω / 1.2Ω / 1.5Ω
Material: Aluminum Alloy + PET + PCTG
Weight: 47.6g
DRAW & BUTTON ACTIVATED - Effectively avoid unintended activation by locking the button activated function with 3 clicks. While locked, you can automatically draw to vape. Click it 3 times again to resume button activation.
REFILL WITH EASE - Featuring a front refill port secured by a silicone plug, the Onnix 2 Pod is easy to refill and can be put back into the device in whichever direction as the strong magnets on the bottom of the pod ensures a quick and perfect match.

NEW POD SYSTEM ATOMIZATION PLATFORM FOR THE ONNIX SERIES - FreeMax is committed to consistently providing more OX Series Coil options with the latest technology. With an Onnix Kit in hand, you can always enjoy the upgrade of technology at minimum cost.
FM SALTCOILTECH3.0 --- OX DVC 0.8Ω & 1.0Ω & 1.2Ω COIL - Equipped with FM SaltCOILTECH3.0, get a strong throat hit and intense nicotine satisfaction. The dual vertical coil build combined with Tea Fiber Cotton Formula makes it 100% in flavor performance for both freebase and nic salt based e-liquids.
OX DVC 0.8Ω Coil
For High Strength MTL Vaping
Output: 12W-15W
Material: Dual Vertical Coil & Tea Fiber Cotton Formula
Freebase E-liquid: 3-9mg
Nic Salt E-Liquid: 20-35mg
OX DVC 1.0Ω Coil
For High Strength MTL Vaping
Output: 9W-13W
Material: Dual Vertical Coil & Tea Fiber Cotton Formula
Freebase E-liquid: 6-12mg
Nic Salt E-Liquid: 30-50mg
100% FLAVOR CATEGORIES COMPATIBLE - The Onnix 2 supports literally every type of e-liquid out there with various VG/PG ratios, both nic salt and freebase, so you can get the absolute purest flavors out of your device. Get the best out of your fruity flavored e-liquid with the OX DVC 0.8Ω Coil, the best from your sweets and dessert e-liquids with the OX DVC 1.0Ω Coil, and the best from your traditional menthol and tobacco flavors with the OX DVC 1.2Ω Coil.
ENDURING BATTERY LIFE - Equipped with a REAL 900mAh internal battery with Type-C 2A fast charging capability, it will only take 60 minutes to completely charge your device from 1% to 100%. Always have the power you need on hand for a full days use.
UPGRADED LIGHT INDICATORS - Upgraded with three hidden white battery light indicators (integrated within the surface) for better better indications, it's quite easy to read the remaining battery life of your Onnix 2. One white light indicates 0%-35% capacity, two white lights indicates 36%-70% capacity, and three white lights indicate the device is between 71%-100% capacity.
Box Contents:
1 x Onnix 2 Device
1 x Onnix 2 Pod 2mL
1 x OX DVC 0.8Ω Coil (pre-installed)
1 x OX DVC 1.0Ω Coil
1 x Type-C USB Cable
1 x User Manual
1 x Warning Card
1 x Warranty Card