FreeMax MAXUS 2 Kit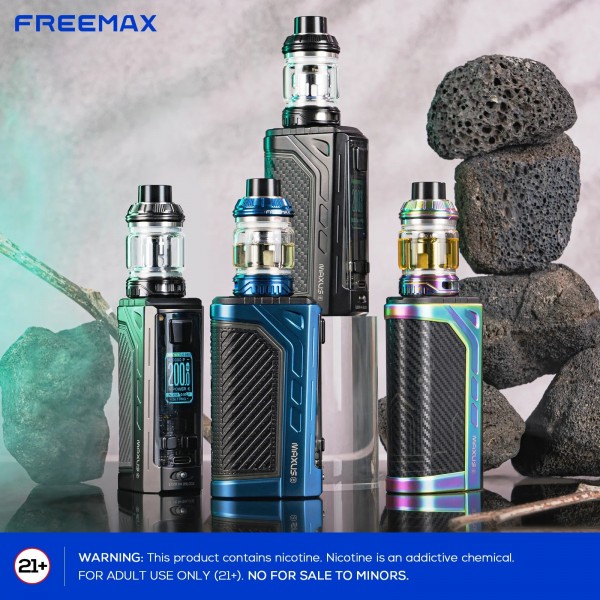 FreeMax MAXUS 2 Kit
F U L L S P E C T R U M V A P I N G F O R D U A L B A T T E R Y M O D .
The Maxus 2 200W Kit from FreeMax is the first dual battery box mod with a fantastic lighting design. Paired with the eye-catching Maxus 2 Mod and equipped with industry-leading FM COILTECH5.0 / Double-D Mesh technology, is the third generation of the world-renown M Pro Series Tanks, the M Pro 3. Featuring the new M1-D Mesh 0.15Ω Coil, the M Pro 3 Tank has a child-resistant top-fill design, a 5mL capacity, and compatibility with all M Platform Series Coils, offering more options for various DTL vaping needs. For the first time, you can enjoy 100% original sub-ohm vaping with full spectrum.
FANTASTIC LIGHTING DESIGN - The Maxus 2 is equipped with cool front lighting (10 LED modes & 2 color modes) and backlighting (5 LED modes) but also has two sets of lighting control systems to provide more customized settings and a suite of cool light effects, bringing you a remarkable full-spectrum vaping journey.
LEGENDS NEVER DIE - The M Pro 3 Tank is the newest version from the well-known M Pro Series Tanks, equipped with new FM COILTECH5.0 Double-D Mesh Tech.

THE ULTIMATE MESH COIL TECHNOLOGY - The new FM COILTECH5.0 Double-D Mesh Tech boosts an instant vaping process with fast and even heating, stable structure, and maximized contact surface area. The combination of the innovative parallel mesh structure, the newly upgraded Tea Fiber Cotton Formula, and military-grade SS904L Mesh will bring you unparalleled clouds and unrivaled flavor.
MAXIMUM HEATING SURFACE AREA - The real operating mesh surface for atomization is now a stunning 95% instead of 60-70% of the former mesh structure.

Specifications:
M Pro 3 Tank:
Size: φ28*58.85mm
Capacity: 5mL
Thread: 510
Drip Tip: 810
Maxus 2 200W Mod:
Size: 51.9mm*31mm*89.5mm

Output Wattage: 5-200W

Input Voltage: 3.3-4.2V
Resistance Range: 0.1-3Ω

Output Modes: Power (Normal, Sport, ECO), VPC, Bypass, TC-Ni, TC-Ti, TCR
Battery: 2 x external 18650 (not included)
Charger Specifications: 5V/2A
CHILD-RESISTANT TOP-FILL DESIGN - The featured M Pro 3 Tank is ISO 8317 Child Resistant Certified with an easy and safe top-fill design. All you have to do is lift and slide the top cap to expose the fill port, super easy and convenient.
M PLATFORM - The M Platform will boost your instant vaping with unparalleled clouds and unrivaled flavors.
M1-D Mesh Coil
Resistance: 0.15Ω
Output Power: 50W-80W
Best: 70W
DUAL BATTERY MOD - The Maxus 2 is a compact and powerful box mod that takes two 18650 batteries to function and adopts a USB-C port with 5V/2A fast charging function.
MULTIPLE OUTPUT MODES - Experience more with multiple output modes beyond your imagination. Power mode includes two sub-modes; Sport & ECO. The Sport sub-mode can boost the inhalation immediately with large clouds and consistent performance while the ECO sub-mode can drop the wattage to extend your battery life. Other modes include VPC Mode, Bypass Mode, TC Mode, and TCR Mode.

1.06-INCH TFT SCREEN - The 1.06 inch screen helps the user to have more of a visual experience with 5 color themes for the UI for you to choose from.

SLIDE LOCK SWITCH - To help prevent accidental firings, there is a slide lock switch to lock the device while it's not in use. Just slide it.

ALL AROUND PROTECTIONS - The new FM Chip 3.0 provides all-round protection with safety features like reverse battery protection, overheating protection, battery low protection, short circuit protection, overtime protection, open circuit protection, overload protection, overcharge protection, and over-discharge protection.
Kit Includes:
1 x Maxus 2 200W Box Mod
1 x M Pro 3 Tank
1 x M1-D Mesh 0.15Ω Coil (pre-installed)
1 x 904L M2 Mesh 0.2Ω Coil
1 x Replacement Glass Tube
1 x Extra Silicone Ring
1 x USB Type-C Cable
1 x Warning Card
1 x Warranty Card
1 x User Manual
1 x Desiccant