FreeMax Marvos X PRO Kit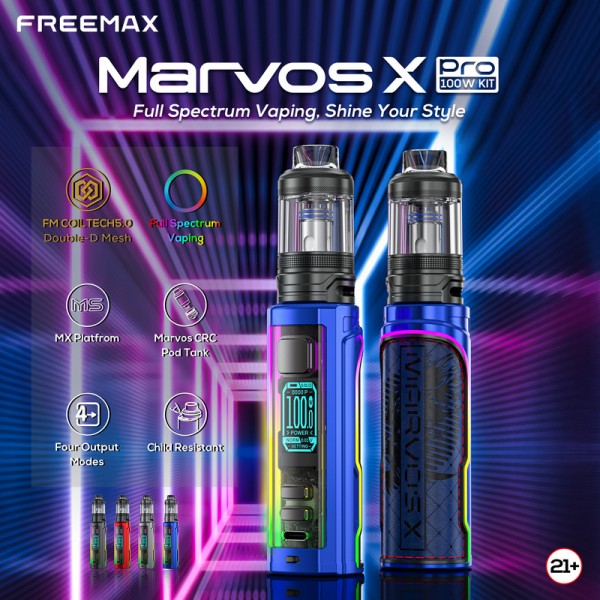 FreeMax Marvos X PRO Kit

S H I N E Y O U R S T Y L E .
The Marvos X Pro from FreeMax is the upgraded version of the original Marvos X, now featuring a 510 base and the CRC Pod Tank. Enjoy a fusion of vintage and modern elements of each device, equipped with distinctive light effects and of course the compatible Marvos MS Mesh Coils with brand-new FM COILTECH5.0 / Double-D Mesh technology.
UNIQUE EXPRESSIONS OF INDIVIDUALITY - With millions of colors and a suite of distinctive light effects, the Marvos X Pro offers you a special full-spectrum vaping experience!
THE ULTIMATE MESH COIL TECHNOLOGY - The new FM COILTECH5.0 Double-D Mesh Tech boosts an instant vaping process with fast and even heating, stable structure, and maximized contact surface area. The combination of the innovative parallel mesh structure, the newly upgraded Tea Fiber Cotton Formula, and military-grade SS904L Mesh will bring you unparalleled clouds and unrivaled flavor.
MS PLATFORM - FreeMax is committed to consistently providing more MS Series Coil options with the latest technology. With a Marvos in hand, you can always enjoy the upgrade of technology at minimum cost, the most cost-effective choice of its kind.
WELL DESIGNED FOR EASY VAPING - The two-sided airflow control system allows you to easy adjust the amount of air intake while the slide switch locks and unlocks your device in order to prevent against accidental button firing.
ALL POWERFUL & CHILDPROOF - The Marvos CRC Pod Tank is ISO 8317 Child Resistant Certified and consists of the Marvos CRC Pod and a 510 base, making the Marvos X Pro compatible with other 510 thread devices.
Specifications:
Size: 32.8mm x 30.9mm x 147.55mm
Output Wattage: 5W-100W
Output Mode: Power/Smart/VPC/Bypass
Battery: 1 x external 18650 (not included)
Output Voltage: 0.7V-4.2V
Input Voltage: 3.3V-4.2V
Resistance Range: 0.1Ω-3Ω

E-Liquid Capacity: 5mL
Drip Tip: 810
Thread: 510
Charging Specifications: 5V/2A
0.96-INCH OLED SCREEN - Visualize your vaping information with 5 theme colors and a random color option available for you to change the UI color.
SIMPLE BUT SMART - The Marvos X Pro supports four different output modes (Power, Smart, VPC, and Bypass), making it a perfect choice for both beginners and advanced vapers.
EMBRACE THE POWER - Marvos X Pro is designed to utilize a single 18650 external battery, held in place with a magnetic battery cover, making installation extremely quick and easy. With Type-C USB Port and 2A fast charging function, you can completely get rid of power anxiety.
FM CHIP 2.0 --- SMARTER, FASTER, AND SECURER - The FM Chip 2.0 provides multiple safety features including reverse battery protection, overheating protection, low voltage protection, short circuit protection, overtime protection, overload protection, overcharge protection, and over-discharge protection.
Box Contents:
1 x Marvos X Pro 100W Mod
1 x Marvos CRC Pod Tank 5mL
1 x MS-D Mesh 0.15Ω Coil (pre-installed)
1 x MS-D Mesh 0.25Ω Coil
1 x USB Type-C Cable
1 x User Manual
1 x Warning Card
1 x Warranty Card
1 x Desiccant