FreeMax Marvos S 80W Kit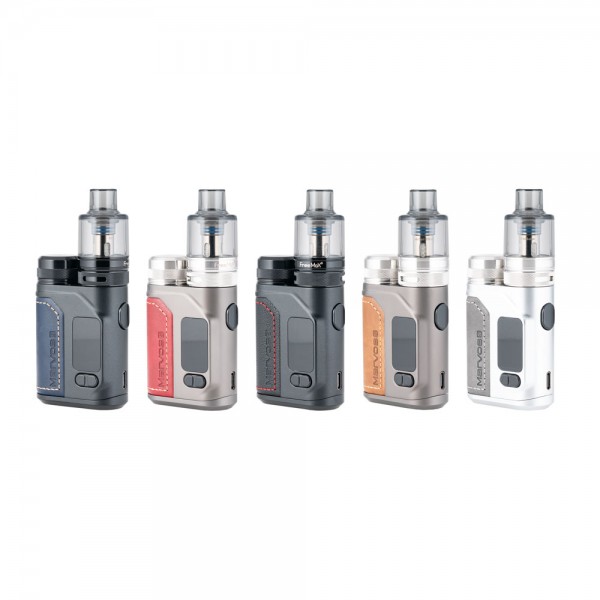 FreeMax Marvos S 80W Kit
A C O M B I N A T I O N O F B O X M O D & P O D M O D .
The Marvos S 80W is FreeMax's brand new side-by-side pod mod kit, powered by a single external 18650 battery. The Marvos DTL Pod Tank is creatively designed with the Marvos DTL Pod and a 510 adapter. Taking advantage of FM COILTECH4.0, FreeMax launches its first pod tank, which will definitely bring your pod to the next level.
COLLISIONS OF METAL & LEATHER - Made up of fine leather and precisely forged zinc-alloy - it can be picked up and played with instantly.

Specifications:
Size: 110.2mm x 51.7mm x 26mm
Pod Tank Capacity: 4.5mL
Coil Resistance: 0.15Ω/0.25Ω/0.35Ω/0.5Ω
Battery; single 18650
Output Wattage: 5W to 80W
Output Voltage: 0.7V-4.2V
Material: Zinc Alloy + Artificial Leather + SS + PCTG
Weight: 156.42g
MS PLATFORM - FreeMax is committed to consistently providing more MS Series Coil options with the latest technology. With one Marvos Kit in hand, you can always enjoy the upgrade of technology at minimum cost, the most cost-effective choice of its kind.
NOT JUST A POD, BUT A TANK TOO - The featured Marvos DTL Pod Tank is compatible with all Marvos Series products and MS Series Mesh Coils.

MS Mesh 0.15Ω Coil
DTL
Rated 60W to 80W
MS Mesh 0.25Ω Coil
DTL
Rated 40W to 60W
CUSTOMIZE YOUR PERFECT AIRFLOW - Perfectly transplanting two-sided airflow control design from sub-ohm tank, allowing you to change the airflow exactly to your desire.
INNOVATIVE 810 DRIP TIP --- AVOID SPITBACK EFFECTIVELY - The 810 drip tip on the Marvos DTL Pod Tank is specially designed for all your DTL vaping needs. Upgraded with increased airflow and pass-through, the V-shaped groove design at the edge of the 810 drip tip prevents spit-back and reduces leaking.

THREE OUTPUT MODES --- SIMPLE BUT SMART - There are three output modes: Power, Smart, and Bypass. Smart Mode can automatically recognize resistance and matches with a suitable wattage. The Bypass Mode is compatible with RBA Mode.
SINGLE 18650 EXTERNAL BATTERY, TYPE-C USB PORT, AND 2A FAST CHARGING - Marvos S 80W Kit is designed with a single 18650 external battery. With Type-C USB Port and 2A fast charging function, you can completely get rid of power anxiety.
0.96 INCH COLOR TFT DISPLAY SCREEN - With 5 display screen interface color options, press the fire button and the down (-) button at the same time for 1 second to select your desired color of the superior 0.96 inch TFT screen.
Kit Contents:
1 x Marvos S 80W Pod Mod
1 x Marvos DTL Pod Tank 4.5mL
1 x MS Mesh 0.15Ω Coil
1 x MS Mesh 0.25Ω Coil
1 x Type-C USB Charger
1 x User Manual