FreeMax Marvos 60W Kit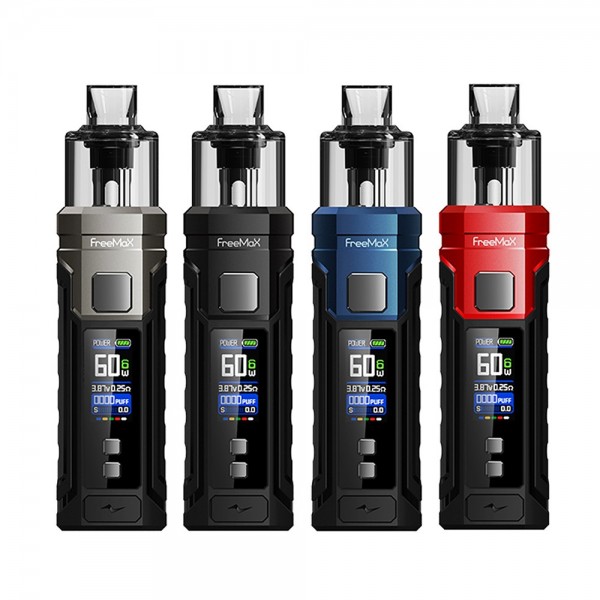 FreeMax Marvos 60W Kit
C O M P A C T T R I - P R O O F F L A V O R M A C H I N E .
The Marvos 60W Kit is FreeMax's first pod mod kit with Tri-Proof Technology, comprised of a Marvos DTL Pod, compatible with the Marvos MS Mesh Coils, and Marvos 60W Battery. In addition to being equipped with COILTECH4.0, it also features IP67 dust-resistance and water-resistance, shockproof, three output modes, side airflow control, zinc alloy & liquid silicone rubber material combination, and an anti spit-back 810 drip tip, all of which make the Marvos 60W better than the best sub-ohm device on the market.
MILITARY GRADE TRI-PROOF TECHNOLOGY - FreeMax's first product with Military Grade Tri-Proof Technology has IP67 dust-resistance and water-resistance and a high level of shock-resistance. The dust-resistance provides total protection against dust and is super easy to clean, the water-resistance protects against the effects of temporary immersion between 15cm and 1m for a duration of 30 minutes, and the shock-resistance withstands accidental drops or falls.

INSPIRED FROM FIRELUKE SERIES & FM COILTECH 4.0 - Inspired by the world-known FireLuke Series, the industry-leading mesh coil technology FM COILTECH4.0 (Tea Fiber Cotton Formula & Military Grade SS904L Mesh) provides outstanding performance in making abundant clouds and marvelous flavors at 20W to 60W.
MS PLATFORM - FreeMax is committed to consistently providing more MS Series Coil options with the latest technology. With one Marvos Kit in hand, you can always enjoy the upgrade of technology at minimum cost, the most cost-effective choice of is kind.
MS Mesh 0.15Ω Coil --- Rated 60W to 80W
MS Mesh 0.25Ω Coil --- Rated 40W to 60W
MS Mesh 0.35Ω Coil --- Rated 30W to 40W
MS Mesh 0.5Ω Coil --- Rated 20W to 30W

MARVOS DTL POD - The Marvos DTL Pod is compatible with all Marvos Series Devices from FreeMax, so you can easily switch your pods to other Marvos devices. Besides the Marvos DTL Pod, made of PCTG, there is also another option, the Marvos Glass DTL Pod.
INNOVATIVE 810 DRIP TIP --- AVOID SPITBACK EFFECTIVELY - The 810 drip tip on the Marvos DTL Pod is specially designed for all your DTL vaping needs. Upgraded with increased airflow and pass-through, the V-shaped groove design at the edge of the 810 drip tip prevents spit-back and reduces leaking.
SIDE AIRFLOW CONTROL TO CUSTOMIZE YOUR PERFECT AIRFLOW - Unlike the traditional pod with limited airflow, the Marvos 60W Kit is designed with side airflow control, allowing you to change the airflow to exactly what you desire for either RDL or DTL vaping needs.
Specifications:
Size: 123.6mm x 32.6mm x 30.6mm
Pod Capacity: 4.5mL
Coil Resistance: 0.15Ω/0.25Ω/0.35Ω/0.5Ω
Battery Capacity: 2000mAh internal
Output Wattage: 5W to 60W
Output Voltage: 0.7V-4.2V
Material: Zinc Alloy + Liquid Silicone Rubber
Weight: 129g
THREE OUTPUT MODES --- SIMPLE BUT SMART - There are three output modes: Power, Smart, and Bypass. Smart Mode can automatically recognize resistance and matches with a suitable wattage. The Bypass Mode is compatible with RBA Mode.
REAL 2000MAH BATTERY WITH TYPE-C 2A FAST CHARGING - Marvos 60W Kit utilizes a REAL 2000mAh internal battery. With a Type-C Port and 2A fast charging function, it only takes 90 minutes to charge your device from 1% to 100%, allowing your device to always have the power it needs for a full day of vaping.
0.96 INCH COLOR TFT DISPLAY SCREEN - With 5 display screen interface color options, press the fire button and the down (-) button at the same time for 1 second to select your desired color of the superior 0.96 inch TFT screen.
SMART FM CHIP 2.0 - The newly upgraded FM Chip 2.0 has a faster firing speed and stable output guaranteed for consistent flavor. It offers users a smart, fast, stable vaping experience inside and out. Safety measures include overcharge protection, over-discharge protection, short circuit protection, low voltage protection, overtime protection, open circuit protection, overload protection, and overheat protection.
Box Contents:
1 x Marvos 60W Mod
1 x Marvos DTL Pod 4.5mL
1 x MS Mesh 0.25Ω Coil
1 x MS Mesh 0.35Ω Coil
1 x Type-C USB Cable
1 x User Manual
1 x Warning Card
1 x Warranty Card