FreeMax M Pro 3 Tank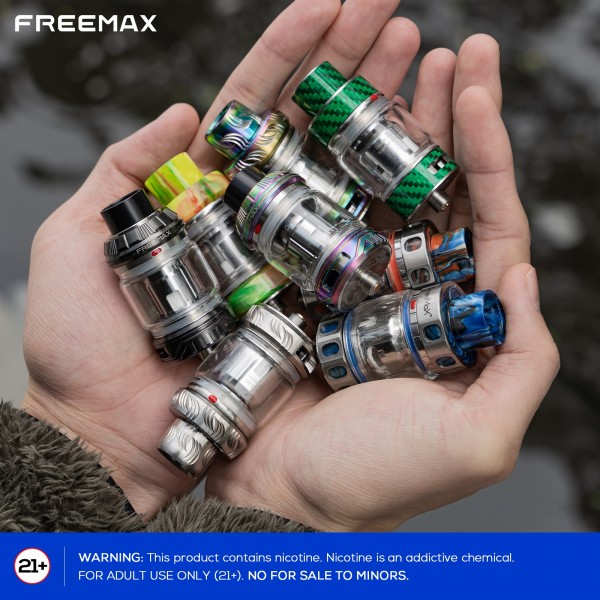 FreeMax M Pro 3 Tank
L E G E N D S N E V E R D I E .
Equipped with industry-leading FM COILTECH5.0 / Double-D Mesh technology, FreeMax introduces the third generation of the world-renown M Pro Series Tanks, the M Pro 3 Tank. With a 5mL e-liquid capacity, this tank features the new M1-D Mesh 0.15Ω Coil, a child-resistant top-fill design, and compatibility with all M Platform Series Coils, offering more options for various DTL vaping needs.
Specifications:
Size: φ28*58.85mm
Capacity: 5mL
Thread: 510
Drip Tip: 810
THE ULTIMATE MESH COIL TECHNOLOGY - The new FM COILTECH5.0 Double-D Mesh Tech boosts an instant vaping process with fast and even heating, stable structure, and maximized contact surface area. The combination of the innovative parallel mesh structure, the newly upgraded Tea Fiber Cotton Formula, and military-grade SS904L Mesh will bring you unparalleled clouds and unrivaled flavor.
M PLATFORM - The M Platform will boost your instant vaping with unparalleled clouds and unrivaled flavors.
M1-D Mesh Coil
Resistance: 0.15Ω
Output Power: 50W-80W
Best: 70W
MAXIMUM HEATING SURFACE AREA - The real operating mesh surface for atomization is now a stunning 95% instead of 60-70% of the former mesh structure.
CHILD-RESISTANT TOP-FILL DESIGN - The featured M Pro 3 Tank is ISO 8317 Child Resistant Certified with an easy and safe top-fill design. All you have to do is lift and slide the top cap to expose the fill port, super easy and convenient.
Sold in 3 packs.