FreeMax Galex Kit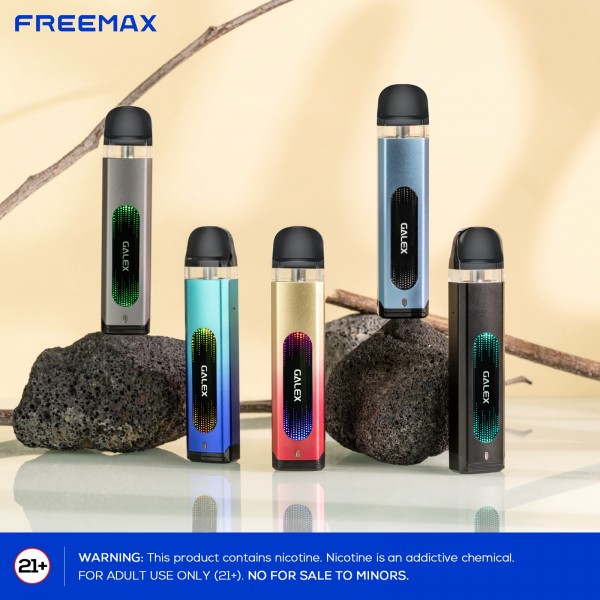 FreeMax Galex Kit
E X P L O R E U L T R A M O U T H - T O - L U N G S O L U T I O N .
Inspired by our vast galaxy, The Galex Kit is the next-generation pod system with FreeMax's typical full-spectrum lighting design and industry-leading FM SaltCoilTech 4.0 Technology. The kit consists of a 2mL top-filling Galex Pod and a rechargeable Galex Battery. The Galex Pod applies FM SaltCoilTech 4.0 Technology with GX Mesh Coil 0.8Ω/1.0Ω options for purer flavors and extends the coil's lifespan. What's more, the pod is equipped with FM Leak-Resistant Tech for effectively preventing leaking issues. The large internal 800mAh battery with a max output wattage of 16W can be fully charged in 40 minutes via the USB Type-C Port. It applies Freemax's typical full-spectrum lighting design for a shining appearance.
Full-Spectrum Vaping
FM SaltCoilTech 4.0

Quenched SS904L Mesh
FM Leak-Resistant Tech
SHINE LIKE THE GALAXY - Experience full-spectrum vaping by plugging the pod in twice within 3 seconds to switch light modes or turn off. In multicolor and unicolor modes, the Galex Kit will show colorful lights when vaping to provide a better interactive vaping experience.
INNOVATIVELY-QUENCHED - The SS904L Mesh is innovatively-quenched to allow vapers to enjoy the purest flavors from the very first puff, while further improving the coil lifespan.
TEA FIBER INCREASE - Adopting the spun-lace process to increase the all-natural tea fiber content by 50%, bringing you long-lasting and pure flavors.
FM LEAK-RESISTANT TECH - The Galex Pod applies FM Leak-Resistant Tech with a maze chimney on either side of the pod. This extends the path of the excess e-liquid flowing through the chimney, thus effectively preventing potential leakage issues. The cotton pad built into the base of the pod absorbs the e-liquid flowing to the bottom to further provide protection.

Specifications:
Size: 23.5mm x 16.5mm x 107.47mm

Battery Capacity: 800mAh
Output Wattage: 11W-16W
Output Voltage: 3.3V-3.5V
Pod Capacity: 2mL
Coil Resistance: 0.8Ω/1.0Ω
EASY TOP-FILLING, CHILD-RESISTANT POD - The Galex Pod is ISO 8317 Child Resistant Certified and is a 2mL refillable cartridge equipped with a top-filling system. Its bottom is visible for monitoring e-liquid levels at any time.

GX MESH COIL PLATFORM - The GX Mesh Coils are compatible with all Galex Series products. Equipped with FM SaltCoilTech 4.0, the lifespan of the GX Mesh Coils have been significantly improved and can last up to 10 refills.
GX Mesh 0.8Ω Coil
RDL Vaping

Smoother Airflow
Warmer, Thicker Vapor
GX Mesh 1.0Ω Coil
MTL Vaping

Tighter Airflow
Subtle Vapor & Intense Flavor
POWERFUL BATTERY FOR ALL-DAY VAPING - The Galex is powered by an internal 800mAh battery that can easily and quickly be recharged, via the USB-C port, within 40 minutes! The LED indicator lights will turn different colors so you can easily monitor your battery levels (Green- >70% / Blue - 35%-70% / Red - <35%).

Box Contents:
1 x Galex Battery
1 x Galex Pod 2mL
1 x GX Mesh 1.0Ω Coil (pre-installed)
1 x GX Mesh 0.8Ω Coil
1 x USB Type-C Cable
1 x Desiccant