Eleaf iStick MIX Kit with ELLO Pop Tank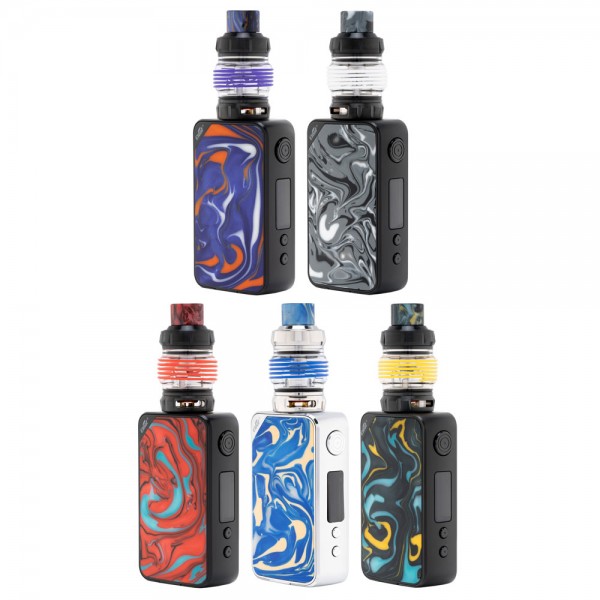 Eleaf iStick MIX Kit with ELLO Pop Tank
The iStick Mix, "Art Mix Tech," is a very personalized product from Eleaf. The Kit consists of the iStick MIX Box Mod and ELLO Pop Atomizer. From the appearance, iStick Mix shows an artistic double-sided design - IML and Resin, which Eleaf has never used and is also one of the connotations of "mixed life." At the same time, iStick Mix combines with TYPE-C and balanced charging technology, charging is more efficient and safer than ever. Powered by dual 18650 batteries, it can fire up to 160 watts of power.
As for the ELLO Pop Atomizer, it adopts a newly kind of HW/M/N coils, so the kit can create huge clouds and intense flavor. With the top filling system, you just need to slide the top cap back to reveal the fill port. Together with the unique silicone ring protections, it makes the atomizer touch feeling good.

In short, iStick Mix is a unique, artistic and technical product that brings you a brand-new feeling.
Parameters:
Size: 52.0mm x 27.0mm x 134.5mm
Weight: 209.5g (without cell)
Battery type: Dual 18650
Output wattage: 160W max
Resistance range: 0.05Ω-3.0Ω
STEADY AND EFFICIENT RECHARGING - Combined with quick charge system and balanced charging technology, charging is safer, faster and more efficient than ever.
THE CHARGE PORT IS TYPE C - Unlike older USB, it doesn't matter which side is up with the TYPE C.
NEW HW-M2 / HW-N2 COILS WITH LPSC TECHNOLOGY - The HW-M2 and HW-N2 coils boasts the innovative leakage-proof and self-cleaning technology. What's more, the new airflow system and porous cotton provide great vaping experience with better flavor.
HW-M2 0.2 Ohm Head - Kanthal 40-90W
HW-N2 0.2 Ohm Head - Kanthal 40-90W
THE BODYGUARD OF ELLO POP - The silicone rings acts as a 'handsome bodyguard' of the ELLO Pop atomizer. It not only has a fancy design but also prevents the glass tube from being crushed.
SMARTLY DESIGNED CHILDPROOF STRUCTURE - The ELLO Pop atomizer is smartly designed with a top fill solution as well as a lock system for child's security.
REPLACEABLE DUAL 18650 CELLS - The iStick Mix is powered by dual 18650 batteries and can fire up to 160 watts, delivering a great vaping with huge clouds.
PERFECTLY FITS YOUR PALM - With the unique and compact design, the iStick Mix is very comfortable to hold and carry.
Kit Includes:
1 x iStick Mix(without cell)
1 x ELLO Pop Atomizer(6.5ml&2ml)
1 x HW-M2 0.2ohm Head
1 x HW-N2 0.2ohm Head
1 x QC3.0 USB Cable
2 x User Manuals
Spare parts