Efest LUC Blu6 Bluetooth 6 Bay Charger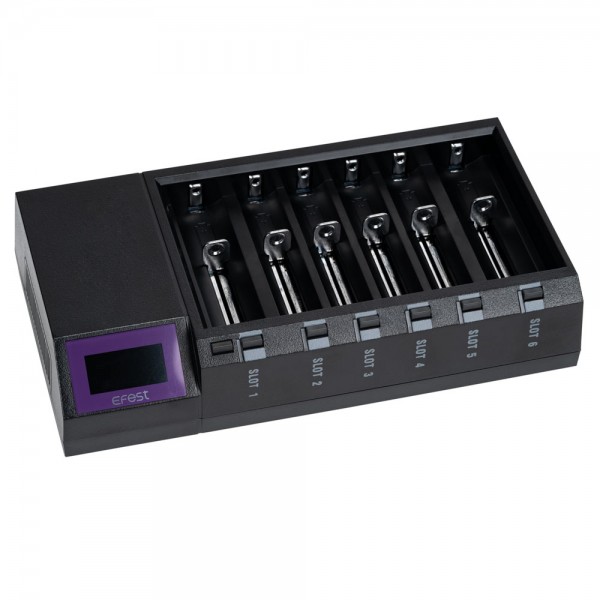 Efest LUC Blu6 Bluetooth 6 Bay Charger - New Updated Version
CONVENIENT CHARGING FOR ANYWHERE YOU WANT AND ANYTIME YOU NEED.
With strong compatibility, high efficiency, and an intelligent screen, the Efest LUC Blu6 Charger, specially built for lithium batteries, is easy and convenient to operate. It requires the phone operating system to be above Android 4.3 or iOS 7, support for Bluetooth 4.0.
Main Features:
Charging Mode: Slot 1~Slot6X0.5A / Slot2~Slot5X1.0A / Slot1&Slot6X2.0A
Each slot with an independent indicator to display charging status.
Spring made by stainless steel, no crack after 10,000 times tensile test.
Switch Charging Mode: multifunction button or Bluetooth APP.
APP FUNCTION - A prompt box will pop up when a slot is fully charged. Integrated Bluetooth communication module, support for smart-phone remote control makes it easy to operate and monitor the charging status.
Specifications:
AC Input Power ------------ 100V~240V 50Hz/60Hz
6*0.5A CC current ------------ 500mA+-10%
4*1.0A CC current ------------ 1000mA +-10%
2*2.0A CC current ------------ 2000mA+-10%
Auto cut-off voltage ------------ 4.20V+-0.05V
CV cut-off current ------------ <10% max
Standby Power ------------ <0.5W
Activation Current ------------ 10mA~100mA
Auto recharge voltage ------------ 4.10+-0.10V
Operation Temperature ------------ 0 degrees C~40 degrees C
Storage Temperature ------------ -40 degrees C~70 degrees C
Compatible With Lithium IMR 3.6V/3.7V Batteries: 10440 / 14500 / 16340 / 17340 / 18350 / 18490 / 18500 / 18650 / 26500 / 26650 / 20700 / 21700