Dovpo MVP 220W Kit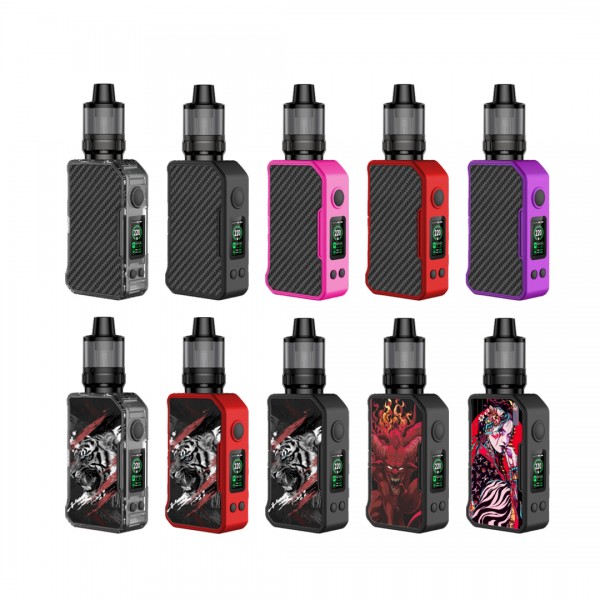 Dovpo MVP 220W Kit

P O W E R F U L C O M B I N A T I O N .
The MVP 220W Box Mod meets the DNP Pod Tank, the latest starter kit released by Dovpo. It features up to 220W of power and is based on the beloved Dovpo MVV II Box Mod. The MVP 220W Box Mod inherits the simple design, lightweight material, and diverse battery doors from its predecessor, but also features a 0.96" TFT color display to show the powers, resistance, and other information. Since launched, the MVP Box Mod has earned a lot of love. Now as an entire kit, the MVP Kit is a powerful combination that's both affordable and durable.

Pod Tank Parameters:
Size: 27.9mm x 48.1mm
Capacity: 5.5mL
Resistance: 0.15Ω/0.3Ω
Material: PCTG + SUS303
Weight: 41g
ONE PLATFORM, DOUBLE THE FLAVOR - The MVP Kit is equipped with two new DNP Coils of 0.15Ω, rated 60W-80W, and 0.3Ω, rated 30W to 40W, with Dual In One Tech.
DUAL BATTERY MOD - The MVP 220W is a well-performed, regulated mod that is powered by dual 18650 batteries. Output powers ranges from 5W to 220W, 6.4V to 8.4V voltage, and supports from 0.07Ω to 3.5Ω resistance tanks. Also, the mod can be fast-charged by Type-C port, which can be seen by open the battery door.

Mod Parameters:
Size: 91mm x 53mm x 27mm
Material: PC + Zinc Alloy
Connection: 510 thread
Battery: 2 x 18650 (not included)
OLED Display: 0.96" TFT screen
Output Power: 5W to 220W
Working Voltage: 6.4V-8.4V
Resistance Under Wattage Mode: 0.07Ω-3.5Ω
Charging Mode: Type-C
Charging Current: 2000mA
POWER MODES - The MVP Box Mod supports different modes, Power, Voltage and Temp Mode (which includes Temp NI, Temp PI & Temp SS). You can easily switch to different mode by click "+" or "-" button in the menu interface. When you successfully enter the mode, the display will change accordingly. Simple to use, easy to check.
SIX SAFETY PROTECTIONS - Multiple safety protections include timeout protection, short-circuit protection, high temperature protection, low power protection, no-atomizer protection, and overcharge protection.
Box Contents:
1 x MVP Box Mod
1 x DNP Pod Tank
2 x DNP DM-1 0.15Ω Coil
2 x DNP DM-3 0.3Ω Coil
1 x Type-C Cable
1 x Instruction Manual