DazzLeaf HERBii Pro Vaporizer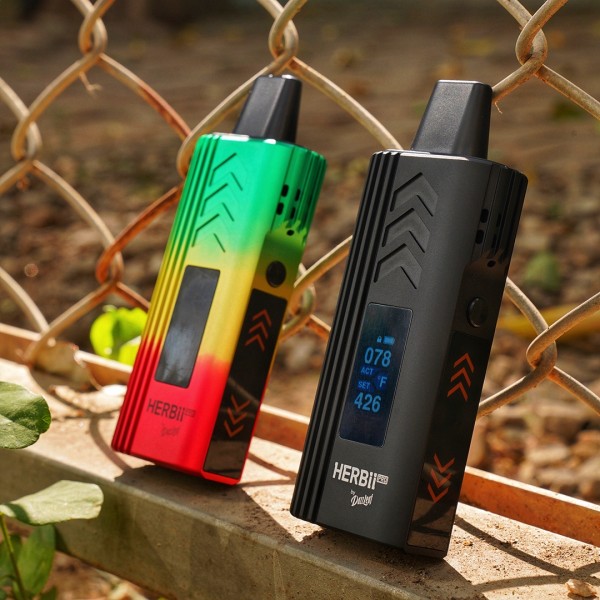 DazzLeaf HERBii Pro Vaporizer
P U R E T A S T E .
The HERBii Pro from DazzLeaf is a compact and convenient dry herb vaporizer, powered by an impressive 2500mAh internal lithium-ion battery. The internal plastic bracket all uses PEEK material, heat insultation, high-temperature resistance, and strong structure. The silica gel part is made of high-temperature resistance material, encased in a durable heat-resistant aluminum alloy material for a comfortable grip. The striped grooves on the surface can effectively insulate and dissipate heat, so the palm can not feel the temperature in the process of use.
Specifications:
Heating Chamber Capacity: 1.6mL
Temperature Range: 140°F-510°F (60°C-265°C)
Dimensions: 128mm x 51mm x 25mm
Battery Capacity: 2500mAh
Full Charge Time: 1 hour
Automatic Lock Screen Function
Touch Screen Temperature Control
The HERBii Pro is equipped with a magnetic mouthpiece for fast and easy refilling. It utilizes a large OLED screen in combination with vibration notifications to make it an ideal device for on-the-go use. The HERBii Pro's high-speed heat-up time, precision temperature controls (ranging from 140°F to 510°F), and embedded ceramic heating chamber come together to produce unrivalled quality and flavorful vapor.
Box Contents:
1 x HERBii Pro Vaporizer
2 x Metal Filters
1 x Cleaning Brush
1 x Herb Spoon
2 x Cotton Swabs
1 x USB Cable
1 x User Manual