Daab™ by Ispire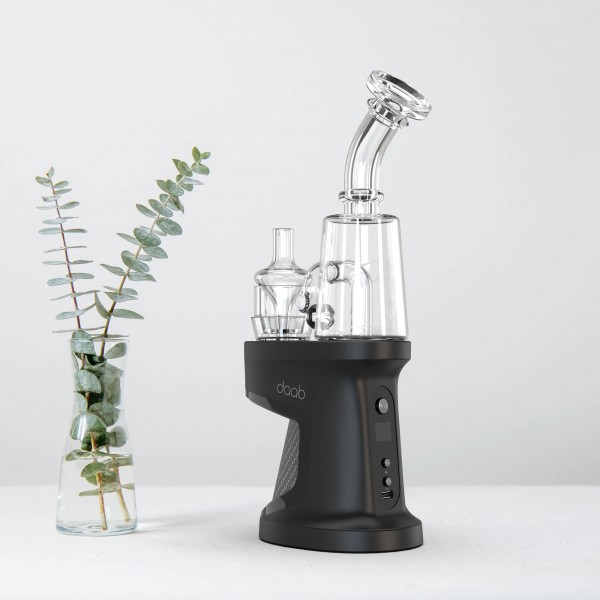 Daab™ by Ispire
T H E W O R L D ' S B E S T D A B B I N G D E V I C E .
Welcome to the dabbing revolution. Daab™ from Ispire provides a sleek, induction heated handheld rig that's discreet and portable. The Daab™'s patent-pending carrier cup brings a safe, easy, and reliable dabbing experience with an all-glass airflow path for the perfect blend of temperature control and flavor. Whether using it for tasty 'cold-start' dabs or high-temp clouds, induction promises the most clean, even heating for the tastiest hits available. Our borosilicate glass cups heat precisely, avoiding contaminants & solvents from touching your product, at custom temps ranging from 250°-800°F. Ispire Daab™ - For the perfect hit every time, anywhere, at any temp!
Product Features:
Induction Heating
Borosilicate Glass Cups
Water Chamber
Pass-Through Charging
Battery Operated
Type-C Charging Port
Viscosity Ranges
Temperature Settings
Safety Features
Portable
INDUCTION HEATING --- BUILT FOR DURABILITY - What makes this heating method so unique? With most common heating methods, a torch or open flame is applied directly to the part to be heated. With induction heating, heat is "induced" within the part itself by circulating electrical currents. Since heat is transferred the part never comes into direct contact with any flame or contaminant, the inductor itself does not get hot and there is no product contamination. When properly set up, the process becomes very repeatable, controllable, clean and safe.
BOROSILICATE GLASS INNER CUPS - By using our borosilicate inner cups with induction heating, the Daab™ is able to precisely heat the borosilicate inner cup to your desired temperature without any contaminants, like butane, ever touching your product.
ALL VISCOSITY RANGE - Versatile enough to support wax and concentrates of any viscosity to meet your daily preference.
HOT OR COLD --- PERFECT DAB SETTINGS - For cold start dabs, the Daab™ offers some of the most flavorful dabs available. By placing your concentrate into the inner cup, then placing the carb cap on the carrier cup, and then heating the Daab™ to your cold start dab temperatures of 450°F or below, you will experience what induction can do for a cold start dab and that is the most flavorful dab hit ever. For hot start dabs, once the Daab™ reaches your perfect dabbing temperature, you can place your concentrate in the borosilicate inner cup, then place the carb cap on the carrier cup and take the perfect hot start dab hit.

Technical Specifications:
Size: 9.75 x 3.5 x 2.25 inch
Weight: 1.04lbs
Activation Mode: Manual & Auto
Battery Capacity: External Dual 18650 Batteries
Charging Port: Type-C
Charging Current: 5V/2A
Temperature Range: 250°F-800°F
Liquid Temperature Range: Optimal at 710°F
DUAL BATTERY 18650 CELL - The Daab™ induction device uses replaceable dual 18650 batteries to power the super high heating efficiency with minimal combustion. Although included, if you do decide to use other batteries, the recommended batteries are dual 18650 3000mAh-3500mAh 30A with a minimum 15A CDR rating. Remember to charge the device before use to guarantee a predictable experience and long battery life.
PASS-THROUGH CHARGING WITH FAST TYPE-C CHARGING PORT - The Daab™ is rechargeable, and has a pass-through so it works while charging, for a repeatable, controllable, clean and safe heating method.
BUILT FOR CONVENIENCE - Equipped with industry standards safety features to ensure top performance, durability, and prolong usage. Safety features include NTC Error (Sensor Error), Overcurrent protection (load current over 16A), Low Electricity (power below 5% - screen flashes 5 times), No Battery (no battery installed - screen will flash for 10 seconds), No Load Prompt (pressing the fire button without a bowl/banger inserted into the induction area will cause the LED indicator light to flash red), and High Temperature protection (the device is too hot to operate - wait 5 minutes for the device to cool down).
In the Case:
1 x Daab™ Device
1 x Water Chamber / Carrier Cup
1 x Reclaim Cup
1 x Carb Cap
2 x Inner Cups
1 x Heat Resistant Silicone Ring
1 x Dab Pad
1 x Dab Tool
3 x Alcohol Swab
2 x Alcohol Pad
1 x Water Chamber Silicone Bumper
1 x USB Cable
1 x User Manual
Shop Ispire Daab™ Replacement Parts here.