Uwell Aeglos P1 Kit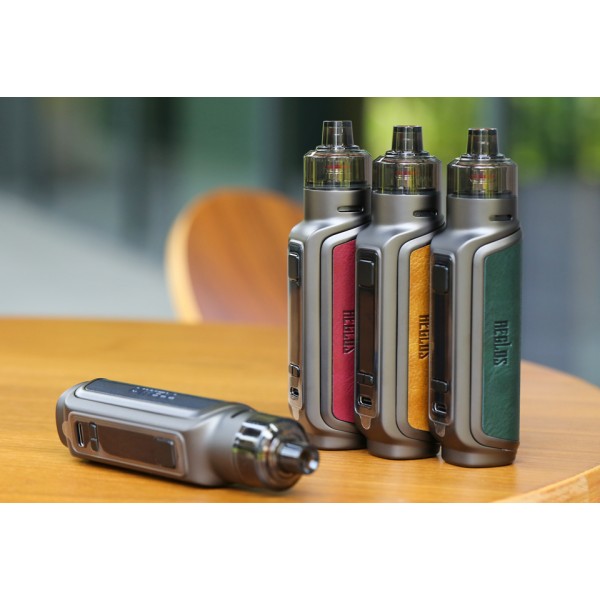 Uwell Aeglos P1 Kit
T R U E I N T E R P R E T A T I O N O F F L A V O R .
The Aeglos P1 is a new pod mod device from Uwell with exquisite size, elegant leather inlaid in the body, and a comfortable, non-slip grip. The metal part of the body is made of zinc alloy and aluminum alloy, and the matte texture is high-quality and durable. Remove the battery cover on one side, you can see that Aeglos P1 Kit is powered by a single 18650 battery, which is replaceable and supports Type-C 5V/2A fast charging.
Featuring Pro-FOCS technology to ensure an authentic flavor of the e-juice, the cartridge and coil are both replaceable. The 4ml capacity Aeglos P1 Pod houses the Aeglos P1 Series Coils but is also compatible with the Aeglos Coils, and features adjustable airflow just by rotating the pod. You just need to rotate the pod to adjust to different needs. The Aeglos P1 can also be converted to be used with 510 threaded tanks via a 510 connection adapter (sold separately).
Specification:
Material: Zinc Alloy, Aluminum Alloy, PCTG, Leather
Size: 29mm x 34mm x 122mm
Net Weight: 118g
E-Liquid Capacity: 4mL
Output Wattage: 5W to 80W
Coil Specifications:
FeCrAl UN2 Meshed-H 0.2Ω Aeglos P1 Coil: 45W-52W
FeCrAl UN2 Meshed-H 0.6Ω Aeglos P1 Coil: 23W-27W
Battery: single flat-top 18650 (not included)
ADAPTIVE POWER - Self-adapt chipset recognizes coil resistance and sets the right output (wattages) to prevent accidental overheating.
PRO-FOCS FLAVOR TESTING TECHNOLOGY - Pro-FOCS Flavor Testing Technology is a superb combination of aerodynamic, material-control and temperature-micro-measuring, in order to give you an ultimate flavor restoration.

ADJUSTABLE AIRFLOW - Output and airflow are both adjustable to help you find your personal preference, bringing you comfort and various enjoyment.
HIGHLY VERSATILE ATOMIZATION SYSTEM - Use your own 510 port atomizers on the Aeglos P1 with our proprietary adapter (available separately).
TFT COLOR SCREEN - More comprehensive data can be displayed with our 0.96 inch TFT color screen. An improved user interface ensures your convenience.
ELEGANT APPEARANCE, COMFORTABLE IN HAND - Leather-covered case is comfort in grip and classic in look.
FAST CHARGING WITH TYPE-C PORT - The single 18650 battery that powers the Aeglos P1 is replaceable and the 5V/2A fast charging enables a long and stable output.
Box Contents:
1 x Aeglos P1 Pod Mod
1 x Aeglos P1 Pod Cartridge
1 x Aeglos P1 0.2Ω Coil (45W-52W)
1 x Aeglos P1 0.6Ω Coil (23W-27W)
1 x Pack of O-Rings
1 x User Manual