Innokin Sceptre Pod Kit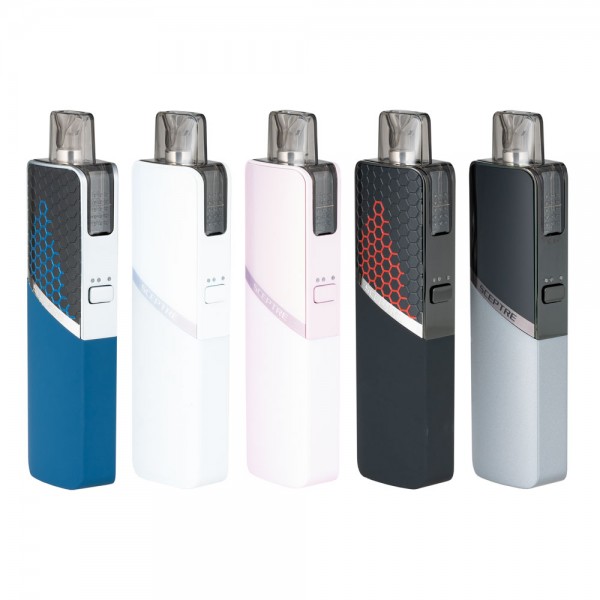 Innokin Sceptre Pod Kit
F L A V O R R U L E S .
Our goal with the Sceptre was to create a pod kit that delivers exceptional flavor that creates both a great Mouth-to-Lung (MTL) and Restricted Direct Lung (RDL) experience.
Innokin engineers tested hundreds of coil designs, materials, resistance output, and e-liquid combinations in the creation of the Sceptre Coils. The Sceptre MTL 1.2Ω Coil and airflow have a tight, focused draw that highlights e-liquid flavors with every satisfying puff. The Sceptre RDL 0.5Ω Mesh Coil and airflow delivers an extremely flavorful direct-to-lung vaping experience, while also helping to conserve battery life and e-liquid. Intense flavors are the result of the balance of experience, rigorous testing, and top-level production standards.
Long lasting battery life is important for vapers so our engineers packed a 1400mAh integrated battery into the Sceptre's compact and stylish frame.
Specifications:
Dimensions: 106.8mm x 29mm x 18mm
Battery Capacity: Internal 1400mAh
Coils/Wattage: Power off and long press to change the wattage
Sceptre MTL 1.2Ω Coils: Purple light 10W; Green light 9W
Sceptre RDL 0.5Ω Mesh Coils: Purple light 20W; Green light 18W
Tank Capacity: 3mL
Airflow: Adjustable
Cut off time: 10s
Filling: Side Filling
Max Output current: 8A
Charging Current: 5V/1A
Kit Contents:
1 x Sceptre Pod Kit
1 x Sceptre Pod
1 x Sceptre MTL 1.2Ω Coil (pre-installed)
1 x Sceptre RDL 0.5Ω Coil
1 x Micro USB Cable
1 x User Manual