AUXO Cira Vaporizer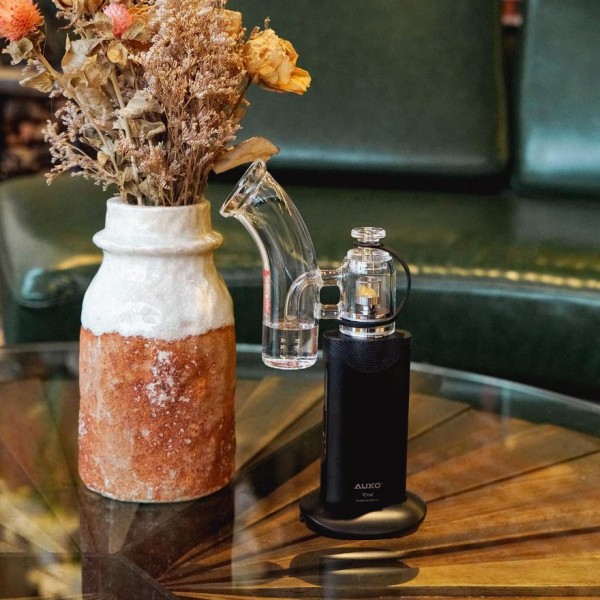 AUXO Cira Vaporizer

P R E M I U M P R E C I S I O N R I G .
Heating Range between 450°-1000°F, catering to any flavor preference
10°F control precision powered by AUXO Heating Wire Technology
Quick 20-second pre-heating preparation
Unlimited 15 second session extensions with the Extended Heating Mode
Unique Handblown borosilicate glass mouthpiece
Powerful dual 2000mAh batteries
INTRODUCTION - Precise temperature control, long-lasting battery life, and a design tailored to your needs. We created 'that vape' for you so that you can create moments to remember.
PRECISE TEMPERATURE CONTROL - Powered by AUXO's innovative patent pending Heating Wire Technology, Cira delivers unrivaled heating uniformity for every session balanced, consistency, and control. Cira offers a heating range of 450°-1000°F, allowing you to be in full control of your device's temperature. Say goodbye to choosing from subpar standard heat settings and customize your experience with precision.
General Specifications:
Dimensions: 129.8mm(H) x 76.2mm(W) x 59.5mm(D) (excl. recycler)
Weight: 340g (excl. recycler)
Materials: Borosilicate (Glass Piece), Titanium & Quartz (Heating Chamber), Aluminum Alloy (Battery Housing), Charging Base (Zinc Alloy)
Screen: OLED Screen
Heating Chamber Specifications:
Compatibility: Concentrates
Heat-Up Time: 20 seconds
Temperature Range: 356°-428°F / 180°-220°C
Battery Specifications:
Battery Type: Lithium
Charging Time: 150 minutes
Battery Life: 30 sessions (based on standard 50-second without extension)
Battery Capacity: 2000mAh/7.4V
EXTENDED HEATING MODE - Cira's Extended Heating Mode feature enables you to extend your session by 15 seconds, mid-cycle, keeping the same temperature it is already at. This function comes in handy if your dab isn't finished, or if you want to share with your friends. You can add as many 15-second extensions as you wish mid-cycle to extend your session. The trick is simple - double click the '+' button within 10 seconds of the heating countdown.
LONG-LASTING BATTERY - Cira comes with powerful dual 2000mAh batteries that support more than 30 sessions (based on standard 50-second without extension) when fully charged. Just charge up, relax, and vape away!
DESIGNED AROUND YOUR NEEDS - A more comfortable grip comes from a more thoughtful design. Cira was crafted with a distinctive anti-scalding wave design, heat-resistant materials, and user-friendly feature to offer the safest and more enjoyable experience imaginable. The OLED monitor displays accurate temperature and battery life readings so that you can be accurately updated on your Cira's status at a glance.
Box Contents:
1 x Auxo Cira
1 x Cira Titanium Chamber
1 x Cira Quartz Chamber
1 x Glass Bubbler
1 x Glass Carb Cap
1 x Silicon Tether
1 x Dab Tool
5 x Cotton Swabs
1 x Charging Base
1 x Charging Cable & Wall Adapter