AUXO Cenote Vaporizer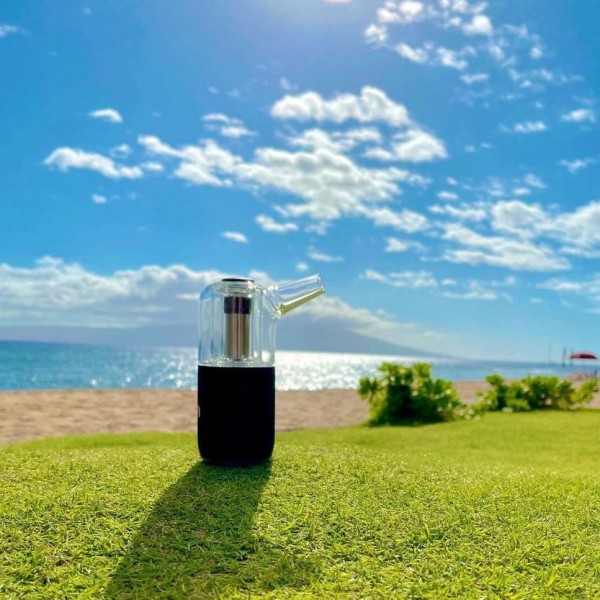 AUXO Cenote Vaporizer
U L T I M A T E C O N C E N T R A T E V A P O R I Z E R .
360° all-around immersive lighting effects to match your mood (more available in-app)
Easy-swap disposable ceramic nail design
3 preset temp settings + customizable Pro Mode accessible via the AUXO app
Type-C and wireless charging enabled
ALL-AROUND IMMERSION - Encompasses within the crystal-clear, hand-blown borosilicate glass recycler attachment is your very own front row seat to the 360° all-around immersive light show that Cenote puts on. Unlike the traditional dab rigs with curves and edges, Cenote is nothing like you've ever seen before. The streamlined cylindrical body is ergonomically designed for easy grip and compactness, allowing it to be extra portable for scenarios in which you never thought you'd be able to enjoy dabbing.
TECHNICOLOR PARADISE - Breathe in and out of a technicolor paradise. Deck and base lights were installed to Cenote to enhance your sensory experience while you indulge in your favorite concentrates. Select from 8 different lighting effects to match your mood - new exclusive effects available periodically via the AUXO app.
EASY SWAP DISPOSABLE NAIL - Full understanding the pain of having to clean e-nails and how residue can affect flavors, Cenote is a convenient smart concentrate vaporizer that uses a disposable ceramic heating nail that can be easily swapped out. Embedded with a 0.02mm super thin metallic heating film, Cenote's ceramic nail is able to distribute heat evenly and thoroughly without burning your extract.
General Specifications:
Dimensions: 143mm(H) x 95mm(W) x 56mm(D)
Weight: 320.5g±10%
Materials: Borosilicate (Recycler), Stainless Steel (Heating Rod), Aluminum Oxide Ceramic (Nail), PC+TPE (Body)
Screen: OLED Screen
Heating Chamber Specifications:
Compatibility: Wax / Concentrates
Heating System: Conduction
Temperature Range: 392°-644°F / 200°-340°C
Preheat Time: 28 seconds
Session Time: 20-90 seconds
Battery Specifications:
Battery Type: Lithium
Charging Time: 90 minutes
Battery Life: 12 sessions per charge (based on standard 100-second sessions)
Battery Capacity: 2000mAh/7.4V
TAILOR YOUR EXPERIENCE - Featuring 3 preset temperature settings that enable fast and easy access, and a customizable Pro Mode for the connoisseurs who want to tailor their sessions precisely to their preferences, Cenote is here to upgrade your vaping experience.
STAY IN FULL CONTROL - There's no better feeling than being able to take full control of your sesh. Via the AUXO app, discover your favorite temperature, duration, light settings, and more. The Pro Mode is especially noteworthy, as it provides the ability to customize all your particular preferences down to a T and find out what works best with your different materials.
NO STRINGS ATTACHED - Sometimes the best kind of relationship with your vaporizer is the no-strings-attached kind. Cenote's battery base is compatible with any QI-certified wireless charging pad, so you can grab and go as you wish at an instant without all the tangle-ups! The most recent Type-C charging port is also included for use, providing the utmost convenience and options for easy charging access.
Box Contents:
1 x Auxo Cenote Base
1 x Glass Recycler
1 x Carb Cap
5 x Ceramic Nails
2 x Silicone Rod Seals
1 x Nozzle
5 x Cotton Swabs
1 x Loading Tool
1 x Tweezer
1 x Charging Cable & Wall Adapter
1 x Carrying Case